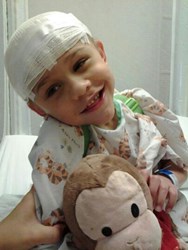 (PRWEB) November 24, 2013
Christina Bell and her husband Troy didn't suspect anything was wrong with their newborn son when he was born in 2005. Not until he was 9 months old when, while in the care of Troy's grandmother, Malichi had his first seizure and began convulsing.
"I had just left for work when I got the call from my husband's grandmother about what happened," remembers Christina. "We took Mali to the Children's Emergency Center at Wolfson Children's Hospital, where they gave him medications to stop the seizure."
At first, doctors at Wolfson Children's Hospital thought Malichi had a seizure resulting from a high fever. But soon, after a consult with a Nemours Children's Clinic, Jacksonville pediatric neurologist, Malichi was diagnosed with epilepsy and hypotonic cerebral palsy, which causes him to have low muscle tone that requires him to be in a wheelchair and to be fed through a gastronomy tube. Last year, the Bells got a specific diagnosis of the type of epilepsy Malichi had: Lennox Gastaut syndrome, a rare form of the disorder affecting only 5% of people with epilepsy.
Over time, Malichi began to have five different types of seizures, including atonic seizures, known as "drop attacks." Nemours pediatric neurologist Harry Abram, MD, who became Malichi's doctor when the boy was almost three years old, explains. "In a drop attack, the patient loses all function and literally just drops right where he is. During these attacks, Malichi has chipped and lost teeth, had severe head injuries requiring stitches, and has even bitten through his tongue."
Over the years, Dr. Abram prescribed 10 different anti-seizure medications and a ketogenic diet, but Malichi's seizures didn't respond to medical therapy. He and the team of pediatric neurologists with Nemours and pediatric neurosurgeons with the University of Florida (UF) College of Medicine-Jacksonville worked together to address Malichi's seizures.
Nemours pediatric epileptologist Raj Sheth, MD, medical director of the Level 4 Pediatric Epilepsy Center at Wolfson Children's Hospital, explains: "Because of Malichi's lack of response to medications and dietary changes over the years, the team recommended surgical intervention."
UF-Jacksonville pediatric neurosurgeon Philipp Aldana, MD, medical director of the Lucy Gooding Children's Neurosurgery Center at Wolfson Children's Hospital, started with the placement of a vagus nerve stimulator. "This is a small pacemaker-like device that is surgically implanted below the skin on the upper chest," says Dr. Aldana. " It delivers a small, steady electrical current to the vagus nerve, the large nerve in the neck that leads directly into the brain. The goal was to reduce the number of seizures Malichi was having, if possible."
Unfortunately, the stimulator did not significantly impact Malichi's seizures, so the team recommended epilepsy surgery to Christina and Troy Bell. "It took us a while to come to terms with this and decide to do it," says Christina. "We were worried about all the things that could happen during surgery, but we got to the point where he was having hundreds of seaizures and day and we knew it was always going to be this way if we didn't proceed. He was getting hurt because of the drop attacks, which happened multiple times a day, and he had no quality of life, so we had to overcome our fears."
On October 24, 2013, Dr. Aldana and UF-Jacksonville pediatric neurosurgeon Alexandra Beier, DO, performed a type of epilepsy surgery on Malichi called corpus callostomy at Wolfson Children's Hospital. "We went in between the two halves of the brain and disconnected the corpus collosum, the fiber bundle that connects the left and right side of the cerebral hemispheres," says Dr. Aldana. "In a case like Malichi's where he's severely affected by cerebral palsy and seizures, the disconnection actually helps the function of the brain by eliminating the majority of his seizures."
He adds, "Normally, if seizures originate from a particular part of the brain, you can remove that and the seizures stop. But in Malichi's case, his seizures came from many parts of the brain. So even this surgery can't eliminate seizures completely, but it definitely can lessen the number and the severity."
Christina said that since his surgery, Malichi has not had any drop attacks and is recovering very well, although he still has other types of seizures that don't lead to injury; even those are much less severe. "Mali's doctors have been amazing! The care Mali received at Wolfson Children's Hospital was great. So many of the nurses knew us already and they made us feel comfortable. It was smooth sailing. We are hoping Mali can get off some of his medications, but we're already seeing a huge difference in our son. Dr. Alanda has definitely given Mali a second chance."
Wolfson Children's Hospital is home to a National Association of Epilepsy Centers (NAEC)-designated Level 4 Pediatric Epilepsy Center, providing advanced neurodiagnostics monitoring; complete evaluation of epilepsy; extensive medical, neuropsychological and psychosocial treatment; and a broad range of surgical procedures for epilepsy. Dr. Sheth says, "This designation indicates that our Pediatric Epilepsy Center provides a comprehensive, tertiary approach to the most complex pediatric patients with epilepsy."
###
About Wolfson Children's Hospital
Wolfson Children's Hospital in Jacksonville, Florida, serves as our region's pediatric referral center and only hospital just for kids. The 213-bed, patient- and family-centered hospital features an environment filled with bright colors, warm smiles and the latest children's medical technology. At Wolfson Children's, nationally recognized pediatric specialists representing nearly every medical and surgical specialty work with pediatricians to provide care for children of all ages with congenital heart conditions, cancer, neurological disorders, orthopaedic conditions, behavioral health disorders, and more. The hospital is staffed by pediatric nurses and other healthcare professionals specially trained to work with children. Wolfson Children's pediatric partners include Nemours Children's Clinic, the University of Florida Jacksonville, and Mayo Clinic Florida. For additional information, please visit wolfsonchildrens.org.