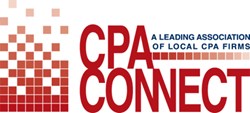 We look forward to bringing these firms into that community and helping them improve through sharing.
Gainesville, Fla. (PRWEB) November 24, 2013
CPAConnect, a companion association of CPAmerica International, welcomes three new members to the accounting association.
"We welcome these three new members to the CPAConnect community," said Ernest H. Moyer, Director of CPAConnect. "CPAConnect is a close group of practitioners who enjoy sharing and learning from each other. They are always willing and open to share. We look forward to bringing these firms into that community and helping them improve through sharing."
James M. Wesolowski CPA, P.A., based in Cape Coral, Fla., offers accounting and audit services, consulting services and tax services. Wesolowski is a sole-practitioner that values client relationships and believes they are crucial to his firm's success.
Hector M. Willars, CPA, LPLLC, based in Cypress, Texas, provides advisory, accounting and assurance services to businesses, firms and individuals. As principal of the firm, Willars aims to provide comprehensive and customized solutions for businesses and individuals.
O'Malley CPAs, P.C., based in Scottsdale, Ariz., is a firm that specializes in personal and small business accounts. The firm has two partners who are dedicated to providing tax services, consulting services and financial planning.
CPAConnect has close to 200 members and is comprised of select sole practitioners and independent certified public accounting (CPA) firms. CPAConnect was founded in 1993, on the central belief that, by coming together as members, each firm could improve its performance, grow and become more prosperous.
For more information about CPAConnect, please visit http://www.cpaconnect.com.
About CPAmerica International:
CPAmerica International is an accounting association tied to the global community. Our firms are independent CPA firms who want to benefit from an international association. CPAmerica provides practice management support, continuing education, marketing, online services and other programs for the improvement of its member firms. As a member of Crowe Horwath International, the association has more than 650 offices worldwide, and combined firm revenues of the alliance approach $3 billion. Learn more about CPAmerica on the CPAmerica blog, LinkedIn and Twitter.