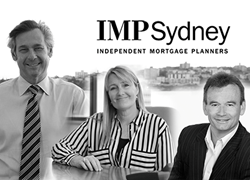 "Finally a mortgage service that has transparency and works in my best interest."
Sydney, Australia (PRWEB) November 26, 2013
Sydney-based financial advisers Habitus Asset Management announce the launch of IMP Sydney, a mortgage company founded with the needs of the home-buyer in mind.
In today's world, having a home loan can cost unnecessary interest fees and cycle individuals quickly into debt that seems almost impossible to recover from. Seeking home loan advice from a bank or mortgage broker that pockets a monthly commission based on your loan does not need to be your only option.
When Sydney-based financial advisers Habitus Asset Management failed to find a mortgage service that aligned with their values of providing sound financial advice, they decided to form IMP Sydney to ensure that their clients were being provided with leading edge advice and counsel for their specific debt reduction needs. The reaction from the clients? "Finally a mortgage service that has transparency and works in my best interest," says Habitus Asset Management Owner, Jonathan Cattana.
Based on a model that can save homeowners 10% or more off their home loan without having to make extra payments, IMP Sydney offers a transparent and unbiased environment to their clients with authentic and clear cut advice on what they can do to manage their home loan debt. "By redirecting Lender commissions back off our clients home loans we reduce the length of their mortgage and significantly reduce the amount of interest paid," says Managing Director, Craig Morgan.
By engaging in a simple process with clients IMP Sydney builds a uniquely crafted plan for each, based off their current loan situation and an analysis of the current market place, to determine the lowest Total Individual Cost for their individual circumstance.
What makes IMP Sydney unique? Unlike most Mortgage Brokers that receive and retain commissions, IMP Sydney will rebate 100% of their commission entitlements back to their clients home loan, making sure that their clients get the most for their dollar. With commission conflict removed clients can be confident that there is no bias regarding which loan or lender is selected.
Clients engage IMP Sydney on a fee for service basis, who provide their client with a written money back guarantee in order to protect their client from paying any unnecessary fees.
To find out more about the potential to save tens of thousands of dollars of interest on your Home Loan, visit http://www.impsydney.com or call 1800 653 653.