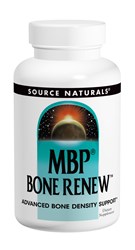 Scotts Valley, California (PRWEB) November 25, 2013
Source Naturals® MBP® Bone Renew™ has been named a Best of Supplements award winner in the New Supplements category by Better Nutrition Magazine.
A recently discovered fraction of milk protein is the key ingredient in this one-capsule-a-day bone density supplement. Because MBP® doesn't rely on calcium supplementation to work, it offers consumers a new way to support bone density naturally. MBP® works by encouraging the activity of bone building cells and the use of dietary calcium for bone building. Consumers who have concerns about the potential undesirable effects of high potency calcium supplementation and those with healthy diets may appreciate MBP®'s unique benefits.*
To select the winning products, Better Nutrition editors conduct interviews with health and industry experts and their readers. Award winners are featured in the November 2013 issue of Better Nutrition.
"We thank Better Nutrition for this award and for recognizing MBP® Bone Renew as a powerful and innovative new bone density solution," says Karen Powell, Director of Marketing. "While the research behind MBP® is meticulous and the ability of MBP® to help optimize the body's natural bone renewing process extremely innovative, what's most impressive about MBP® is the results it provides after just six months of use." Four well-controlled clinical studies show that MBP advanced healthy bone density results in women of all ages getting calcium only from their diets.*
Source Naturals CEO Ira Goldberg says, "Bringing cutting-edge, science-based natural health products to market is core to our mission. MBP®'s ability to promote the body's natural mechanism for enhancing healthy bone density makes it a standout. We believe MBP® will change the paradigm for natural bone density products and we are pleased to be the first US Company to offer MBP® as a standalone product."*
Most Whole Foods Markets, Sprouts, as well as other natural products stores and Internet retailers, carry MBP® Bone Renew. Purchase locations can be found at SourceNaturals.com. Suggested retail prices are $14.98 for 30 capsules, $28.50 for 60 capsules, and $55.50 for 120 capsules. Consumers can view an educational video and get tips for bone health at mbp-bone-renew.com. **
# # #
About Source Naturals
Source Naturals is dedicated to enhancing each individual's potential to enjoy optimal health and well-being by providing superior quality dietary supplements and nutritional education. For more information, please visit SourceNaturals.com.
*These statements have not been evaluated by the Food and Drug Administration. This product is not intended to diagnose, treat, cure or prevent any disease.
**All prices and ingredients are subject to change without notice.
Source Naturals is a registered trademark and Bone Renew is a trademark of Threshold Enterprises, Ltd. MBP® is a registered trademark of MEGMILK SNOW BRAND Co., Ltd., and is protected under multiple U.S. patents.