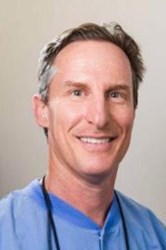 West Los Angeles, CA (PRWEB) November 23, 2013
November is Diabetes Awareness Month and periodontist Dr. Andrew Satlin is generating increased awareness among patients in the West Los Angeles, CA area about the strong connection between diabetes and gum disease. The need to notice early gum disease symptoms, such as gum pain or bleeding gums, and to take prompt action to treat the infection can reduce the chances for the development of either Type 2 or gestational diabetes or can reduce the chance of complications from arising in the case of patients who already have diabetes.
It has been well established for a while that people who have diabetes are more likely to contract periodontal infection. This is because diabetics have a reduced ability to ward off any type of infection, including infections in the gums. New research now shows that the connection between these two diseases is reciprocal. People who have gum disease are proven to be at a higher risk for developing diabetes. In light of this, Dr. Satlin is leveraging Diabetes Awareness Month to educate the public about the visible gum disease symptoms and when to seek treatment for red or bleeding gums or for gum pain.
The bacterium present in periodontitis can migrate through the body and, as a result, a systemic response is triggered to fight it off. A natural result of this is a rising of the blood sugar. Diabetics that are exposed to prolonged periods of increased blood sugar levels face increased challenges with managing their disease and may be more likely to develop other complications ranging from damage to the eyes and kidneys to heart attacks or strokes. People who do not have diabetes yet but who suffer from untreated gum disease symptoms put their body systems under stress, increasing the chance that diabetes will develop.
Dr. Satlin is proud to be a leader in the treatment of gum disease and offers many different options for eliminating this form of infection. If you have gum pain or any other sign of potential periodontal infection, Dr. Satlin invites you to contact his office or to visit his website to learn how you can not only combat gum disease but maintain your overall health as well.
About The Doctor
Dr. Andrew Satlin is a periodontist offering personalized dental care for West Los Angeles, CA gum disease patients. Dr. Satlin is part of one percent of dental professionals providing the LANAP FDA cleared laser procedure for gum disease treatment. To learn more about Dr. Satlin and his dental services visit his website at http://www.westlosangelesperio.com and call (310) 907-5912.