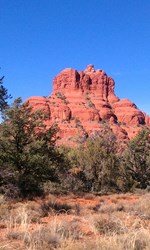 Our goal and mission is to gather like-minded forward thinkers and have the important conversation about how to apply all our Wisdom and soulful lessons as we embark upon the planet's "New Story
Sedona, Arizona (PRWEB) November 24, 2013
The beautiful red rocks of Sedona will play host to the first annual Sedona World Wisdom days January 17th to January 20th, 2014. This unique four-day festival is based on the four essential pillars of awareness: creativity, culture, education and wellness. With over 30 speakers, presenters and workshop facilitators, this will be the largest inspirational festival hosted in Sedona, Arizona to date.
Featuring main-stage presentations, a variety of breakout workshops, a book fair and film festival will focus on inspiring the wisdom within. "Our goal and mission is to gather like-minded forward thinkers and have the important conversation about how to apply all our Wisdom and soulful lessons as we embark upon the planet's "New Story". This is the time. This is the place. Sedona's healing energies support this vision in the greatest of ways," shares Glenn Scarpelli, Co-Founder of Sedona World Wisdom Days. "Expanding our Wisdom takes place in every moment we have and every move we make."
Sedona World Wisdom Days has invited an extensive list of leaders in the health and healing movement, best-selling authors, and celebrities devoted to the cause, to participate in this year's event. Appearances are scheduled for Jean Houston (best-selling author), Don Miguel Ruiz (author of The Four Agreements), Mackenzie Phillips (actress and author), Diane Cirincione and Jerry Jampolsky (authors of Forgiveness) and many more.
The "Wisdom Passport" provides guests an all-inclusive experience with access to Friday's opening ceremony as well as all presenters and keynote speakers on Saturday and Sunday. "Wisdom Passports" are available for $395 at sedonaworldwisdomdays.com. Additional events such as Friday's film festival and Monday's Sedona workshops will be available for purchase individually, allowing guests to select the events that most interest them.
Event organizers have created a unique collection of Sedona events that give festival participants the opportunity to perpetuate and express their expanded inner wisdom. Included in the weekends schedule will be a special tribute to the most influential social rights leader in history, Dr. Martin Luther King. Guests will also be able to place prayers, intentions and affirmations in a 7-foot "Wisdom Bell," crafted by Cheston Trammel and commissioned by the Goldenstein Gallery.
About Sedona World Wisdom Days: Long known as a place of healing, Sedona provides the ideal background for Sedona World Wisdom Days. A destination for healing and learning, this is an excellent location to connect with the energy of nature while expanding the knowledge within. Looking for Sedona, AZ things to do? Visit: http://sedonaworldwisdomdays.com.