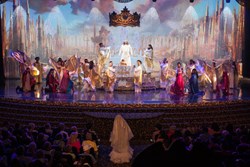 (PRWEB) November 22, 2013
It's official! The International Association of Amusement Parks and Attractions (IAAPA) honored the world's best and brightest theme parks and family attractions at its annual Brass Ring Awards ceremony in Orlando, Florida November 21, and Trinity Broadcasting Network's Holy Land Experience received two awards for live entertainment excellence, along with one for excellence in visual display.
The popular Orlando, Florida family vacation destination won the IAAPA's coveted Heart Beat Award for its drama The Passion, which recounts with stirring music and intense action the life, death, and resurrection of Jesus Christ. The IAAPA noted that the Heart Beat Award is given each year to a production "that demonstrates superior overall ability in reaching the hearts of its audience."
Holy Land Experience also received a Brass Ring honor in the "Best Overall Production" category for its theatrical drama The Four Women Who Loved Jesus, an all-new show that explores the lives and destinies of four women in the Bible who experienced dramatic encounters with Christ.
Additionally, Holy Land Experienced was honored with a Brass Ring Award for excellence in visual display.
"The whole team at Holy Land Experience is thrilled to be recognized with the Brass Ring Awards for our ongoing efforts to bring the message of Scripture and faith to our guests with quality drama, music, and impacting visual displays," said Mike Everett, General Manager of Holy Land Experience.
Mr. Everett added: "The importance of these awards is made clear when you consider that this year's Brass Ring finalists included some of the industry's biggest attractions, like Dollywood, Six Flags, Busch Gardens, Disney, SeaWorld, and even Universal Studios Japan. These honors really affirm the quality, creativity, and audience impact of the live productions and visual displays at Holy Land Experience."
Situated in the heart of the nation's most popular vacation spot, Holy Land Experience offers an unforgettable adventure that immerses visitors in the sights, sounds, historical time frames — and impacting truths — of the Bible. With its colorful and realistic re-creations of ancient Israel, exciting dramatizations of favorite Bible stories, and awe-inspiring musical productions, Holy Land Experience has become a must-see attraction for individuals, families, and groups from across America and around the world.
Guests emphasize that a day at the park is a moving experience that combines tears of joy and worship, along with plenty of laughter and good old-fashioned fun. One guest summed up Holy Land Experience as "the most beautiful place I've ever seen!" Another called her visit "an experience that could not be expressed by words." And a group all the way from Malaysia commented: "We feel like we had a glimpse of heaven, and it made us feel closer to Him."
Mr. Everett said the Brass Ring awards have created a great deal of excitement among the staff of Holy Land Experience. "It's a great honor to be recognized for the creativity, diligent effort, and commitment to quality that goes into everything we do," he said. "We're thankful for the opportunity to be involved in something that is both entertaining and life-changing for our many guests."
For more information about the Holy Land Experience, visit http://www.holylandexperience.com.