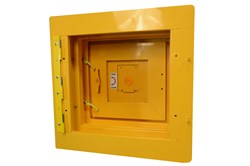 Field tests show the LC 13 can give you up to three times the service life of conventional doors, with a lot less maintenance. - Larry Cassidy
Pittsburgh, PA (PRWEB) December 03, 2013
The LC 13, which can serve as either a stand-alone mandoor or an airlock component, is manufactured by the same mining experts at A.B.E. Manufacturing and Fabrication who manufacture the Zero Man Door.
According to Larry Cassidy, the veteran western Pennsylvania mine foreman whose expertise helped shape the LC 13, the new system is an economical choice for mine operators. "It helps reduce parts inventories, and installation hassles, with a single model they can use anywhere in a mine," he said this week.
The LC13 comes in 30" x 30" and 36" x 36" sizes. Light in weight (only 100 pounds for the basic 30" x 30" unit), it consists of just two parts: an adjustable frame and a removable door. The frame fits 6", 8" or double-stacked block stopping walls. Any LC 13 assembly can be repositioned quickly when ventilation paths change.
Simplicity
According to Mr. Cassidy, "The LC 13 is all about keeping things simple. First, it has a new, no-flange back frame that makes installation and disassembly a snap, because the door assembly can slide into or out of a wall without disturbing the wall itself. And we've retained the easy setup features that made the original Zero Door so successful.
"Whether the LC 13 is used as a basic mandoor or as part of an airlock system, two guys can install it using just one tool," he said. "For airlock installations, we supply a patented adapter kit that connects two LC 13s back to back. Either way, installation time is only about one hour per door."
Safety
A leading driver for the new design, Mr. Cassidy said, is safety. To promote movement between high- and low-pressure spaces, the LC 13 comes with a built-in equalizer port that doubles as a rock-dusting access point. Other standard safety features include:

An exclusive auto-close mechanism that eliminates slamming and keeps body parts out of harm's way
Secure, double-latching handles that are engineered to take day-to-day punishment without snapping off
Latches that can be operated from either side of the door without jamming
Rolled edges that won't snag skin, clothes or equipment
High-visibility warning reflectors
Reliability
Once it's latched, Mr. Cassidy said, the LC 13 seals tightly at all four corners for maximum ventilation control. A long-lasting fiberglass gasket stays airtight and minimizes maintenance. Like all Zero Door models, the LC 13 is precision-engineered and the most solidly built product in its class. Heavy, galvanized 10-gauge tubular steel frames and 14-gauge door panels afford outstanding resistance to convergence and heaving.
"Field tests show the LC 13 can give you up to three times the service life of conventional doors, with a lot less maintenance," he said. "And, if you ever do need service, any replacement part for any door is just a phone call or an email order away.
"Ventilation control is essential for safety, and it's also a critical factor in managing total energy cost," he said. "Better mandoors and airlocks really can affect an operation's bottom line."
The Zero Man Door LC 13 is made in the U.S.A. and sold from coast to coast. For more information, call Zero Man Door at 888-524-3113 or Fairmont Supply Co. at 800-245-9900, ext. 3968, or visit http://www.zeromandoor.com.