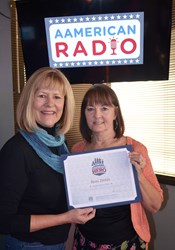 Phoenix, Ariz. (PRWEB) November 25, 2013
Beau Zimbro, age 32 and Tiara Del Rio, age 21 were critically burned in an October 16, 2013 house explosion in Peoria, Arizona. Both were placed into medically-induced comas for three weeks to help them heal and minimize some of the excruciating pain. Their healing journey will take quite some time as Tiara suffered burns over 53 percent of her body and Beau sustained burns over 60 percent of his body.
Beau is credited with saving Tiara's life by carrying her out of the home they shared, while both were covered in flames. They remain in the Arizona Burn center in the Maricopa Medical Center in Phoenix. AAM, the leading community management company in Arizona, has donated $1,000 to the Maricopa County Health Foundation to assist with the medical bills Beau and Tiara are accumulating. Beau is uninsured.
On its new internet radio show on DoublewideNetwork.com, AAM president Amanda Shaw and vice president of marketing and business development, Susan Williams recognized Beau for his bravery. "Beau's actions were extraordinary under the worst of circumstances. His actions were selfless and heroic," said Shaw. As he is still hospitalized, Beau's award was accepted by his mother Marie Zimbro. "His dad and I are so very proud of him," said Marie. The cause of the explosion is still under investigation but it is thought to be related to an accumulation of gas from a ruptured gas line that exploded when Tiara lit a candle.
AAM has set up a direct donation link to the Maricopa Medical Foundation. Go to http://www.DoublewideNetwork.com, scroll down to AAMERICAN RADIO and follow the donation link.
About AAM
AAM works with many of the largest homebuilding and community development companies in the United States such as Del Webb/Pulte, Shea Homes and Meritage Homes. Founded in 1990, AAM employs 370 people and manages more than 440 homeowners associations in the United States. The company embraces a value system of creating a better America one neighborhood at a time, thru engaged neighborhoods and vibrant communities. AAM was ranked the #1 HOA/Community Management firm in Phoenix in 2013 by the Phoenix Business Journal. The company has offices in Phoenix and Tucson, Arizona; Albuquerque, New Mexico; and Orlando, Florida. http://www.associatedasset.com