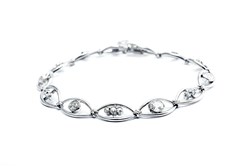 San Diego, CA (PRWEB) November 24, 2013
Leo Hamel Estate Buyer, Beth Berger, recently purchased an Edwardian bracelet from a woman who had an amazing story to tell. The bracelet had been concealed behind a wall in a house in Nyalka, Hungary, during World War II to keep it from being confiscated during the Nazi invasion. "This was a very common practice during the time," explains Berger. The bracelet remained hidden, along with a pearl brooch and set of earrings, until the fall of 2012, when an American woman purchased the house and began renovations. She gave the bracelet, fashioned of platinum set with mine- and rose-cut diamonds, to her daughter, who now lives in Julian.
The delicate bracelet was badly scratched and mangled, with loose diamonds and bent links. The master jewelers at Leo Hamel Fine Jewelers painstakingly restored the piece to its original condition, refinishing and straightening the metal and tightening the stones. It is now on display in their San Diego showroom, where some lucky customer will be able to buy not only a beautiful bracelet, but also a part of history.
Berger, a Graduate Gemologist, identified the piece as Edwardian, fashioned between 1901 and 1910. A retail value of $5,695 was appraised based on the materials and carat weight of the diamonds.