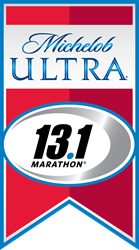 Dallas, TX (PRWEB) November 25, 2013
Michelob ULTRA and US Road Sports & Entertainment Group today announced a new partnership that will see Michelob ULTRA become the title sponsor of the Michelob ULTRA 13.1 Marathon® Series, the nation's fastest-growing half marathon series.
As part of the multi-year partnership, Michelob ULTRA will receive all naming rights for each of the seven races, logo placement on all marketing materials – including finishers' medals – and on-site activation opportunities at each race to provide entertainment and engage with runners and spectators.
Michelob ULTRA will activate its sponsorship in a variety of ways to elevate the race experience for runners, their families and spectators, including introducing new technology to enhance how runners are tracked during all 13.1 events and awarding each runner, 21 and older, one complementary Michelob ULTRA sample at the finish line (where legal). Michelob ULTRA will also have a presence at select training runs.
"Joining forces with the 13.1 Marathon Series is a great opportunity for us to continue supporting the running industry and the athletes that dedicate themselves to the challenge of competing in a half marathon," said Lori Shambro, vice president, Michelob ULTRA. "We are excited to activate at each Marathon Series event next year and toasting each adult competitor with a cold Michelob ULTRA sample* at the finish line."
"We are very pleased to align the 13.1 Marathon® Series with a brand like Michelob ULTRA," says Steve Obert, vice president of sales and marketing at US Road Sports & Entertainment Group. "This partnership showcases the fun and excitement that is prevalent at all 13.1 Marathon® events."
Fully launched in 2010, the 13.1 Marathon® Series is a group of races that gives runners and walkers a chance to participate in a stand-alone 13.1 mile race in some of the most popular and scenic running communities nationwide. In 2011 alone, the Series had more than 35,000 participants. In 2014 race markets include Miami Beach, New York, Chicago, Boston, Atlanta, Dallas and Fort Lauderdale with events spanning from January to November.
For more information about Michelob ULTRA, please visit http://www.Facebook.com/MichelobULTRA For more information about 13.1 Marathon®, please visit http://www.131marathon.com.
*The ability to sample alcohol beverages will vary based on state laws.
# # #
About Anheuser-Busch
Based in St. Louis, Anheuser-Busch is the leading American brewer, holding a 47.6 percent share of U.S. beer sales to retailers. The company brews Budweiser and Bud Light, two of the world's largest-selling beers. Anheuser-Busch is a major manufacturer of aluminum cans and has been a leading aluminum recycler for more than 30 years. The company is a wholly-owned subsidiary of Anheuser-Busch InBev, the leading global brewer, and continues to operate under the Anheuser-Busch name and logo. For more information, visit http://www.anheuser-busch.com.
About US Road Sports and Entertainment Group
US Road Sports & Entertainment Group is a health and wellness company dedicated to the production of world class endurance events. The mission of US Road Sports is to offer an unparalleled participant sports experience that showcases host communities and endures as a deeply valued local asset through events that are a part of the city's culture, identity and brand. For each participant, US Road Sports strives to offer events that allow participants of all skill levels the opportunity to improve their physical and mental health and accomplish life-altering goals while having fun. US Road Sports provides sponsors and municipalities highly effective exposure to help maximize their presence and message in the community. For more information, please visit http://www.usroadsports.com.
# # #
MEDIA CONTACTS:
Paramount Public Relations
Jessica Prah, jessica(at)paramountpr(dot)com, 312-953-3257
Elizabeth Lewis, elizabeth(at)paramountpr(dot)com, 312-544-4190
Michelob ULTRA
Phillip Cleveland, phillip(dot)cleveland(at)anheuser-busch(dot)com, 314-577-9637