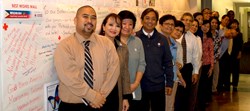 Los Angeles, CA (PRWEB) November 25, 2013
WEDBUSHCares, a corporate giving program that supports the affiliated companies of WEDBUSH, Inc. including Wedbush Securities, Wedbush Bank, Wedbush Asset Management and Lime Brokerage, and its Colleagues provided $20,000 to those affected by Typhoon Haiyan in the Philippines. The program is dedicated to supporting clients, colleagues and the communities it serves through charitable activities. Disaster relief funds will be donated through the American Red Cross.
WEDBUSHCares raises awareness and offers charitable donations to non-profit organizations that focus on improving the quality of life – including natural disaster recovery, health and wellness causes, and other activities that positively impact communities. In addition to the monetary contribution, Wedbush Colleagues created a "Hope Banner" in the firm's corporate headquarters. The banner displays heartfelt wishes of recovery for the island nation and will be delivered to the Philippine Consulate.
"Many of our Colleagues, clients, friends and families were impacted by Super Typhoon Haiyan. Showing our support by giving to those in need was just a natural reaction," said Natalie Taylor, Co-Chair, WEDBUSHCares Advisory Committee and Vice President, Marketing. "We really wanted to find a meaningful way to come together and support the relief efforts."
For more information about WEDBUSHCares, please visit http://www.wedbushcares.com.
# # #
About Wedbush Securities
Founded in 1955, Wedbush Securities is a leading financial firm that provides brokerage, clearing, investment banking, equity research, public finance, fixed income sales and trading, and asset management to individual, institutional and issuing clients. Headquartered in Los Angeles, with over 100 registered offices, the firm focuses on relentless service, client financial safety, continuity, and advanced technology. Wedbush Securities is the largest subsidiary of holding company WEDBUSH, Inc., which also includes affiliated firms Wedbush Bank, Wedbush Capital Partners, Wedbush Opportunity Partners, Wedbush Asset Management and Lime Brokerage LLC. Follow us on Twitter @Wedbush.