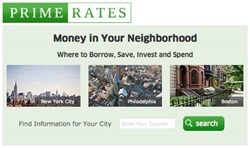 Starting today, our new localized news feature on PrimeRates.com will give you the personalized financial and economic news you want to read.
Washington, D.C. (PRWEB) November 29, 2013
In an industry first Primerates.com has launched a hyper-local financial news source that delivers economic news and finance tools based on the area in which the user lives. By simply entering a zip code Primerates.com can now deliver news about any local city, the industries in that area and provide valuable tools and financial calculators to help consumers get the best deals on financial products that they use every day.
Edward Murphy of Primerates.com shared that, "Starting today, our new local news feature on Primerates.com will give users the personalized financial and economic news they want to read. With just a zip code our algorithms select news stories for users based on the major business trends and finance news in their area." Murphy added that, "If you live in or near Boston, Atlanta, Dallas, Chicago, New York City, Los Angeles, Miami, or Washington D.C. our brand new service will give you the breaking financial news important to you and your community." The local financial news service is expanding constantly and soon will cover many more cities in the US providing local financial news, tools and calculators so check back frequently if a specific city isn't listed yet.
Not only will users be able to get great local economic news for their area on Primerates.com, but they will also be able to use powerful tools to help find the best deals on finance products that are needed every day! With the Primerates.com user friendly interface users will see updated mortgage rates, home equity lines of credit, auto loans, CD's, housing data and more for a particular city. When deciding on what finance product is going to be the best, knowledge is power and these finance tools will give users the valuable information they need to make the best decisions and save money.
Murphy concluded that, "Primerates.com has been providing interesting economic and financial news and valuable financial tools to consumers since 2012. Our website is packed with articles and information that consumers rely on to stay informed about the financial world." With new articles and features being rolled out frequently, Primerates.com will continue to grow and educate consumers on the economic and financial topics important to getting ahead in these tumultuous economic times.