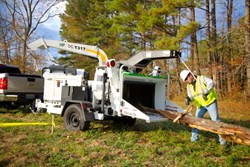 This new winch features the ability to pivot 25 degrees in each direction, making it easier for pulling side loads and more flexibility to position the material for chipping. - Andy Price, Altec Tree Care Market Manager
Birmingham, AL (PRWEB) November 25, 2013
Altec Industries, Inc., announces a new winch package option on the DC1317 chipper, which offers greater maneuverability at the work site.
"Altec strives to find solutions to meet our customer needs," says Andy Price, Altec Tree Care Market Manager. "This new winch features the ability to pivot 25 degrees in each direction, making it easier for pulling side loads and more flexibility to position the material for chipping."
The newly designed pivoting winch is available on both the Altec DC1317 and DC1317HP chippers and offers three operating positions: parallel to the feed direction, 25 degrees to the curbside, and 25 degrees to the street side.
Other features include:

7/16" diameter rope with 9,900 lb breaking strength and abrasion-resistant polyester cover
150 feet of rope
105 RPM operating speed
Powered by a 10.3 cu. in. motor
Boom structure made of .25" grade 50 steel
Controls that provide options of 'Forward', 'Reverse' and 'Free Spool'
Nylon roller fairlead to preserve rope at a wide variety of angles
Steel hook and hook stopper
Winch spool and rope encased in the winch boom for protection from the elements
To learn more about Altec chippers and other tree care equipment, contact 800-958-2555 or visit http://www.altec.com/treecare.
Altec is a leading equipment and service provider for the electric utility, lights and signs, telecommunications, contractor, and tree care markets. The company provides products and services in more than 100 countries throughout the world. Altec, Inc. is the holding company for Altec Industries, Global Rental, Altec NUECO, Altec Worldwide, Altec Capital, Altec Supply, and Altec Ventures, LLC.