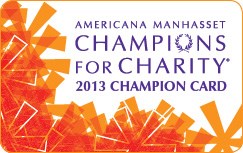 Manhasset, New York (PRWEB) November 23, 2013
Now in its 18th year, Champions for Charity marks the start of the holiday giving season at Americana Manhasset.
Sunday, November 24 and Thursday, December 5th through Saturday, December 7th, Americana Manhasset will celebrate 18 years of giving back with our annual holiday shopping benefit, Champions for Charity®. To date, this program has raised nearly 7 million dollars for local and national charities.
Sunday, November 24 and Thursday, December 5th through Saturday, December 7th, all participating tenants of Americana Manhasset and Wheatley Plaza will donate 25 percent of designated pre-tax purchases to the participating charities of the customer's choice. The three-day shopping event involves over 70 Americana Manhasset and Wheatley Plaza stores and includes on-site charity receptions as well as Americana Manhasset Personal Shopper and Concierge Services.
Throughout the four days of festive holiday shopping, many stores will sponsor and host private charity cocktail receptions including the newly renovated Burberry and Salvatore Ferragamo boutiques. Burberry is hosting the Crohns & Colitis Foundation, and Ferragamo welcomes Autism Speaks and the Lisa Beth Gertsman Foundation.
Michael Kors will host the Dysautonomia Youth Network or America under a tent with a DJ, and Hermes will celebrate the season with the UJA, the Sid Jacobson JCC, the Coalition Against Domestic Violence and the Gift of Life.
Americana Manhasset is a premier collection of fine shops all within a unique outdoor environment designed by renowned architect Peter Marino and landscape designer Oehme van Sweden. Americana Manhasset offers complimentary Personal Shopping Service, a remarkable fashion and gift resource. Located on Long Island's beautiful North Shore, Americana Manhasset is 20 miles from Manhattan and 50 miles from the Hamptons.
Americana Manhasset at Northern Boulevard and Searingtown Road and Wheatley Plaza at Northern Boulevard and Glen Cove Road, are both Castagna Realty Company properties. For further information please visit americanamanhasset.com or championsforcharity.org.