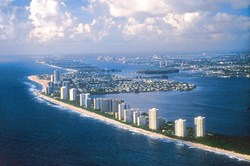 Calling Palm Beach home means access to year round events, shopping and dining to keep the entire family happy, nearby amphitheaters jam-packed with musical performances in all genres, and a selection of first-rate schools.
Palm Beach Gardens, FL (PRWEB) November 23, 2013
18-year old golfer Lexi Thompson, a pro since age 15, is on a winning streak as she just recently won the Lorena Ochoa invitational in Mexico and is currently playing a season-ending LPGA event at Tiburon Golf Club in Naples, Florida. The Tiburon Golf Club is the host course for the yearly Shark Shootout, which is an off-season golf event for the PGA Tour. At 12 years old, Thompson was the youngest golfer to qualify for the U.S. Women's Open. She is definitely one-to-watch in the sport.
The Palm Beach Post recently reported, Thompson, who is from Coral Springs, Florida, is looking to purchase Palm Beach Gardens real estate and make Palm Beach Gardens her new home. She will be yet another addition to a long list of pros and semi-pros who have relocated to the area. A haven for many of golf's greatest, the entire South Florida area suits those who enjoy playing the sport, either recreationally or professionally.
Golf courses in Palm Beach Gardens include BallenIsles Country Club, Old Palm Golf Club, PGA National Golf Club, Frenchman's Reserve, Frenchman's Creek Country Club, Country Club at Mirasol, Eastpointe Country Club, Eastpointe Golf and Racquet Country Club, Old Marsh Club, and Palm Beach Gardens Golf Course. These are only the courses located directly in Palm Beach Gardens. There are still many others in neighboring areas, such as North Palm Beach, Palm Beach and Lake Worth. In fact, Palm Beach County has more golf courses than any other county in the country. The variety in courses to play and practice is an attribute that attracts many of the professional players to the area.
Palm Beach County offers pro golfers access to championship facilities, ease of travel from airports and excellent off season weather to keep their games sharp. Beyond that, calling Palm Beach home also means access to year round events, shopping and dining to keep the entire family happy. Nearby amphitheaters have schedules jam-packed with musical performances in all genres. A selection of first-rate schools for everyone from Pre-K through college is also based in Palm Beach County.
With a multitude of places to go and things to do and see in the area, coupled with a large variety of courses to keep their games on point, growing and competitive, it is no wonder the area has increasingly become a mecca for golf-lovers worldwide.
Distinct Estates sells homes in highly-desirable areas all across Florida. Distinct Estates represents both buyers and sellers who are in search of their Florida dream home. The reputable Florida real estate agency is composed of highly experienced realtors who have received many accolades for their level of professionalism and results.