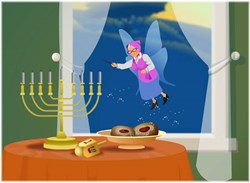 Los Angeles, CA (PRWEB) December 03, 2013
Just in time for the holiday season, Doozy Cards announces a new Hanukkah eCard. Featuring original animation and classical music, Doozy's new Hanukkah greeting combines traditional Hanukkah symbolism with a wry sense of humor. The new card pokes gentle fun as it celebrates. It can be sent with a free ten-day trial membership.
Freshly designed for this year, Doozy's new Hanukkah eCard features traditional animation and plays on an often used device— magic, in the Doozy repertoire. Titled the "Bubbe Fairy" the card turns a beloved Jewish grandmother figure into a delightful magic fairy, a turn both charming and hilarious. This greeting finds her helping light the menorah, commencing the eight days of celebration.
In addition to this new eCard, Doozy Cards also announced its most popular Hanukkah cards based on customer sending: "Hanukkah Doves," "Bunny Menorah" and "Tap Dancing Maccabees."
Since Hanukkah and Thanksgiving will closely coincide this year, Doozy Cards offers a special selection of Thanksgiving eCards. The spooky scares of Halloween have passed, but Alfred Hopscotch Turkey Terror proves that a frightful fate still awaits one guest at the Thanksgiving dinner table. Featuring one of Doozy Cards' popular animated characters, Alfred Hopscotch, this new Thanksgiving eCard offers a clever and refreshing alternative to typical Thanksgiving greetings.
Doozy's Hanukkah eCards offer an innovative way to stay in touch with friends and family digitally during the holiday. The original greetings are also a special way to invite guests to Hannukah dinner or reach out to those who aren't able to attend this year. Doozy's staff of writers and animators, many of whom work in Hollywood, looked to create original Hanukkah eCards with traditional and modern themes in order to appeal to the older clientele who are more apt to send cards as well as their often younger recipients.
Doozy Cards offers a ten-day trial period of free Hanukkah eCards, as well as a premium membership with a host of benefits, including unique eCards, birthday reminders and free tech support. Appropriate to this time of year when one thinks of helping those in need, a portion of the proceeds from Doozy's premier membership goes to the St. Vincent Meals on Wheels charity, the largest privately funded meals program in the US.
A family-based company, Doozy Cards is staffed by animators, voice-over artists and writers, who provide customers with a distinctive selection of new Hanukkah eCards online distinct from generic holiday greetings. According to Bennett Schneider, writer and Creative Director at Doozy Cards, "Because of our teamwork, I think we get a richer, more original product than you're going to find on more corporate and mass-produced eCard sites."
To view Doozy Cards' new Hanukkah eCard and other invitations visit: http://www.doozycards.com/ecards/hanukkah-ecards.
About Doozy Cards:
A small, family owned and operated animation studio and ecard company, Doozy has been creating original eCards since 2003, including popular Birthday eCards. A father and daughter team founded Doozy Cards with the intention of uplifting each person who views their cards.