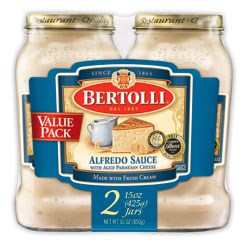 Norwalk, CT (PRWEB) November 25, 2013
The Bertolli® team at Unilever Foods selected TFI Envision, Inc. to create the packaging graphics for their Alfredo Sauce "Value Pack". The design needed to reinforce Bertolli's premium positioning and high quality, while clearly communicating the "Value" offer.
Value Packs can increase demand for products because it increases the amount of the product available at the point of consumption as well as increase consumer acceptance of a product by encouraging buyers to try it several times.
Since 1975, TFI Envision, Inc. of Norwalk, CT, has specialized in developing strategic design and marketing solutions for branding, packaging, promotion, digital and corporate communications; helping organizations achieve their marketing and communication goals with compelling, consistent messaging that is on brand and on target.