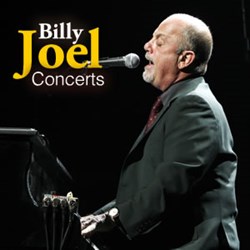 Even with four tour dates to select from, tickets may end up sold out long before the afternoon.
New York, NY (PRWEB) November 23, 2013
The Billy Joel Tour 2014 comes to the United States with more mystery than fanfare. The first Billy Joel concert to test the waters took place in a small theater on Long Island with almost no notice. Rumors about shows in both Sunrise Florida near Fort Lauderdale and Jacksonville started to swirl with only a single show in Sunrise January 7, 2014 confirmed officially at first. In late October a Billy Joel concert New Year's eve in Brooklyn became the second and a bit later three more concerts in Jacksonville and Tampa and a second Sunrise tour date became confirmed by Billy Joel. The next announcement, a single day before presale tickets went out to the public, made people aware of just a single Billy Joel Madison Square Garden show. Soon after that presale saw all tickets sold in under an hour, a second MSG concert began the presale process. By late in the afternoon with fans still buzzing about the surprise second show a third went on presale. Just when things looked calm, the next day an unexpected fourth New York Billy Joel concert came on line. Today at 10am all four MSG shows release tickets for public sale. Even with four tour dates to select from, tickets may end up sold out long before the afternoon. Will this Billy Joel 2014 Tour visit 50 arenas all over North America? Will he play the Billy Joel New York and Florida shows only to return home? Fans await these answers.
As for the songs one may hear at these 2014 Billy Joel concerts, some may not be quite as familiar to those looking to buy Billy Joel tickets, but few may classify as brand new creations. At his impromptu show Billy Joel spoke about playing some songs he rarely if ever performed in concerts before. The tune Blonde Over Blue written for his ex wife Christie Brinkley stood out in the group as he played the song in concert for the first time ever. Other material came from Cold Spring Harbor, the Billy Joel album issued prior to Piano Man. Of course, fans heard Piano Man and many Billy Joel favorites too. Based on the surprise concert on Long Island and a recent Billy Joel concerts in England we prepared a probable Billy Joel 2014 set list indicating songs fans will likely hear. On top of these there should be more which may or may not vary based on the show.
Tickets-Cheapest.com can provide tickets for all the other major MSG events besides Billy Joel including 2 Elton John tour dates, 4 Phish New Years Eve performances and a new item just announced featuring the Paul Simon and Sting Tour playing 2 shows. Sports fans may also find New York Rangers, Giants, Jets, Yankees Mets and NY Knicks tickets too. Those in New York City who prefer theater should look at Financial Firebird's Ticket-Broadway.com site for all Broadway plays and musicals as well as The Rockettes Christmas Spectacular tickets.
Billy JoelTour2014.com in association with Tickets-Cheapest.com operates in the ticket resale market, similar to sites like StubHub, which concert fans may be familiar with, only with cheaper prices than other such sites. This weekend marks a great time to think about a show with Billy Joel, George Strait, Luke Bryan, Jason Aldean, Paul Simon And Sting concerts with two Madison Square Garden shows as well as the Justin Timberlake concerts putting tickets for Auburn Hills MI near Detroit on sale for the public today followed by Kansas City on Monday.
For all anyone knows these Madison Square Garden concerts plus Brooklyn New Year's Eve and Florida may mark the final public tour dates for Billy Joel. For fans in the area, don't miss this rare chance to see the Piano Man live. If you can't buy seats at the frantic box office initial sale, don't worry, a large inventory of tickets remain available at the BillyJoelTour2014.com site even after they are sold out from the venue and for less than other resale outlets including premium seats and floor tickets.
About Financial Firebird, Billy Joel Tour 2014 and Tickets Cheapest
The site to find cheap concert tickets online, and its sister sites, including the site to purchase Broadway tickets like Motown Broadway, all geared for the consumers looking for low prices, are affiliated with the Financial Firebird Corporation Travel Group, and stand among the top sites sought by travelers and people who enjoy concerts, pro sports and theater performances. Financial Firebird Corporation, established in 2000 and a proud BBB member, provides unbiased consumer information particularly involving personal unsecured debt or mortgages, software and marketing services. These sites for consumers to buy tickets online operate in the resale market and maintain no relationship with the venues or performers. The resale ticket market allows consumers access to popular events once the box office has sold out or to buy premium seats when the venue no longer offers any inventory. Within the group of these secondary market ticket services, the Financial Firebird owned ticket sites offer lower prices than competitors. Find the site at BillyJoelTour2014.com and Tickets-Cheapest.com.