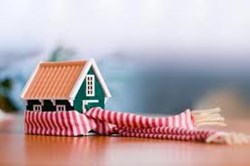 Morris, MN (PRWEB) November 26, 2013
There's no doubt about it. Minnesota winters are cold. And to help keep home heating costs low, many Minnesotans choose to use indoor space heaters for added warmth. But if not used properly, space heaters can be a dangerous fire hazard. Morris furnace repair company, Craig's Inc. gives the following advice to homeowners on how to properly use a space heater, so they can stay safe – and warm – this winter.

When purchasing a space heater, look for those with an automatic shut-off or tip-over switch that turns the heater off after a certain length of time or if it is tipped over.
Find a safe place for the heater on a solid and level surface, away from high-traffic areas and flammable items such as curtains, bedding, clothing or furniture. If it is an electric heater, be sure it is not near a water source such as a bathtub, shower or sink to prevent electrocution. Make sure the room has enough ventilation to prevent the risk of carbon monoxide poisoning.
Before plugging in the space heater, be sure to read and follow the manufacturer's operating instructions. Do not use an extension cord, but rather plug it in directly to the wall outlet.
For kerosene or propane heaters, use only the manufacturer's recommended grade fuel and do not substitute with any other kind of fuel.
Most importantly: remember to turn off the heater and unplug it whenever you leave the room, go to bed for the night or leave the house.
For more information on heating and air conditioning services, contact Craig's Inc. at 320-281-1330 or visit http://www.bensoncarrierdealer.com.
About Craig's, Inc.
For over 25 years, Craig's, Inc. has provided quality heating and air conditioning services to homes and businesses in Benson, MN and the surrounding communities. As part of the Stay Comfy Minnesota network, Craig's Inc. is committed to providing the best customer service with NATE certified technicians, quality Carrier products, and a 100% satisfaction guarantee.