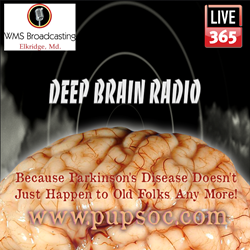 There's more to Parkinson's disease than being the disease Michael J. Fox has.
Elkridge, Maryland (PRWEB) November 25, 2013
Parkinson's disease isn't just an "old folks" disease any more. According to the National Parkinson Foundation, more and more younger people are being diagnosed with this progressive neurological disorder.
Bill Schmalfeldt, 58, is such a person. Now in his 14th year as a "Parkie," as he calls himself, Schmalfeldt is retired from his job as a writer/editor with the National Institutes of Health.
Although in the late stages of PD, Schmalfeldt can still write with a keyboard and he can still broadcast on his two online radio stations. On Nov. 21, Schmalfeldt took the progressive news/talk station he was programming on the internet radio service Live 365.com, and changed the format. Now, "Deep Brain Radio" broadcasts 24 hours a day with the latest news about the research being done to find new and better treatments and, he hopes, a cure for this disease that has trapped his body in a chair while leaving his mind free to wander.
"It dawned on me, as the late baby boomer generation edges toward retirement, more and more folks in their 40s and 50s are going to be diagnosed with this thing," Schmalfeldt said. "This next generation of senior citizens will be Internet savvy. But the Internet hasn't caught up to the needs of the 6-million people around the world who already have a PD diagnosis, or the estimated 60,000 Americans who will be diagnosed this year. There are great websites, like the National Parkinson Foundation that are filled with great info, but what other media is serving this population? Certainly not television," he said.
Other than Michael J. Fox, who is the first person to come to mind when you mention Parkinson's disease to the uninitiated, there are precious few celebrities with Parkinson's. And only Fox is on TV at the moment.
Knowing a successful station has to be entertaining as well as informative, Schmalfeldt mixes reports from medical centers around the world with his own personal narratives -- chapters from his audio books "No Doorway Wide Enough" and "You Never Miss the Dopamine Until The Brain Runs Dry". Schmalfeldt tells his story in a wry, humorous style, especially when describing the experimental brain surgery he underwent as part of a clinical trial in 2007.
"It's absolutely free to listen," Schmalfeldt said. "You can find the station on our home website, http://pupsoc.com. There, you'll see the Live365 listener widget as well as a Pay Pal donation widget and a donation widget for the National Parkinson Foundation. Every dime I make with this radio station will be donated to the NPF."
Listeners who prefer a "commercial free" listening experience can become VIP members on Live365. Schmalfeldt gets a bit of money for the time VIP members spend listening to his station, and he says that money will be donated to the NPF as well.
"Tune in, give it a listen, learn something," Schmalfeldt said. "There's more to Parkinson's than being the disease Michael J. Fox has. Don't wait until it becomes the disease you have, or someone you love has, to care about it."
WMS Broadcasting is a one person operation run out of Bill Schmalfeldt's bedroom in Elkridge, Maryland. In addition to "Deep Brain Radio," he runs a channel of blues music called "The Last Stop Lounge." He also blogs his progressive political opinions at "The Patriot-Ombudsman."