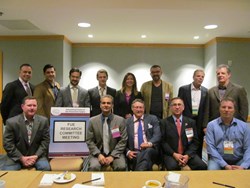 The meeting was very productive with many useful presentations and scientific involvements.-Parsa Mohebi, MD
Los Angeles, CA (PRWEB) November 22, 2013
The 21st annual meeting of the International Society of Hair Restoration Surgeons was recently held at the Regency Hotel in San Francisco. During the meeting, there were many lectures on the latest innovations in the field of hair restoration. Dr. Parsa Mohebi, chairman of the FUE Research Committee, stated, "The meeting was very productive with many useful presentations and scientific involvements."
Dr. Parsa Mohebi was one of the doctors who presented an innovative method to manage the donor wound in a strip hair transplant. He introduced the process and explained how it has helped patients. "I call this method the Partial Trichophytic Closure. This method minimizes the visibility of the scalp scars significantly."
Another novel method in hair restoration was presented as Piloscopy by Dr. Carlos Wesley. He introduced an endoscopic method for removing hair follicles from underneath the skin level. Unlike the current techniques which are used in hair restoration, this process helps minimize the hypopigmentation at the skin level that the patient may experience.
During the ISHRS meeting, the FUE research committee had its second annual meeting discussing what has been done in the last year, as well as what research they will be conducting in 2014. The first research project of the committee will be launched soon. It will be comparing Strip vs FUE hair transplantation. This will answer one of the most important questions in last few years in the field of hair restoration. There will also be other projects that follow and they will focus on transection in FUE hair restoration.
When asked what expectations he has for the future of hair restoration, Dr. Mohebi stated, "In the last 2 years we have been seeing a lot of improvement in FUE techniques and technology. We are witnessing a breakthrough in the whole industry of FUE hair transplant. As the chairman of FUE Research Committee, we have a group of 17 doctors that are focusing on research and development in hair restoration. With the newest research we are answering several key questions that can open up the door to understanding hair restoration mechanisms to advance the technology of hair restoration."
About US Hair Restoration:
US Hair Restoration was established in 2008 by Dr. Parsa Mohebi. As chairman of FUE Research committee and creator of the several methods and techniques in modern hair restoration, Dr. Mohebi and his staff provide the most advanced techniques in hair restoration. The overall goal at US Hair Restoration is to restore patient's self-esteem through the use of quality hair restoration.