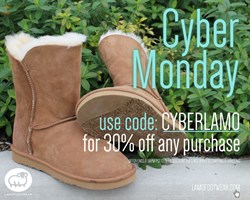 Los Angeles, CA (PRWEB) November 26, 2013
California-chic shoe brand LAMO Footwear announces a site-wide sale in celebration of digitally acclaimed Cyber Monday. All products available on http://www.lamofootwear.com will be discounted 30% with promotional code CYBERLAMO. New winter releases such as the Liberty boot (pictured inset) and Sammi fringed boot are among the latest styles up for discount. Warm weather classics like the Up-Tied sandals, and Gypsy canvas flats will also be on sale. This is the first year that LAMO Footwear will be participating in a Cyber Monday sale.
Known for their casual chic style, LAMO offers fun, versatile selections like moccasin slip-ons, colorful canvas flats, and signature sheepskin boots, booties and slippers. LAMO Footwear is a great option for warm or cool weather, adding fashionable comfort to any outfit. Manufactured from the finest quality Australian Merino sheepskin, LAMO Footwear not only provides superior quality and cushion, but is also created with temperature balancing properties and durable flexibility.
About LAMO
Established by Joseph Li in 1995, the LAMO Footwear collection has since become a fashion staple for a continuously growing number of shoppers. "Our mission is to provide consistent value, quality, and comfort through our entire life and to create ideal investment pieces. While other brands have resorted to lower quality of synthetics and linings, we wanted to maintain the quality of our line by using natural sheepskin fiber, which is the hallmark of our brand." LAMO Footwear ranges from $60 to $200 and is available at department stores and specialty boutiques nationwide or online at http://www.lamofootwear.com as well as internationally in Canada, South America, and Japan.