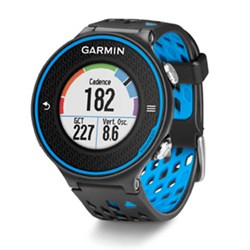 The Garmin Forerunner 620 blows everything else straight out of the water.
Bozeman, MT (PRWEB) November 24, 2013
The hottest Holiday gifts for runners cyclists and triathletes are on sale now at the Heart Rate Watch Company.
"We obsessively test and scour the market and these are the items we consider to be the cream of the crop for 2013," says Rusty Squire, President of the Heart Rate Watch Company. He adds, "You won't find any disappointment in these products but if you are unsure than simply purchase a gift certificate and we'll help the recipient after the fact."
"This is our absolute favorite list of Best Fitness Gifts of 2013," says Squire.
BEST GPS RUNNING WATCH
"The Garmin Forerunner 620 blows everything else straight out of the water," says Squire. He adds, "Run oscillation, ground foot contact time and several unique measurements combine with the lightest, fastest and highest resolution watch on the market, it's no contest."
BEST ALL AROUND GPS WATCH
"The Suunto Ambit 2 won our 2013 GPS watch of the year," says Squire. He adds, "I use one personally and it does every imaginable sport thanks to thousands of apps and has features that equal, or beat, all of its competition as an all-round outdoor instrument including navigation plus trackback." It is also the most rugged GPS watch according to Squire.
BEST BIKE COMPUTER
"The Garmin Edge 510 delivers real-time data upload with the best bike metrics available anywhere," says Squire. He adds, "For touring cyclists the Garmin Edge Touring Plus delivers turn-by-turn directions on a full color screen, just like your car's GPS."
BEST ACTION CAMERA
"The new Garmin VIRB Elite action camera blows GoPro out of the water by adding real-time maps with GPS on a split screen to your live footage," says Squire. He adds, "It also adds a barometric altimeter, real-time data like heart rate and onscreen metrics like actual speed, elevation and more - there is nothing else like it."
BEST ACTIVITY BAND
"The new Polar Loop is the only activity band that can display real-time heart rate and it is also waterproof, so it bests Fitbit, Nike Plus and the rest by a long shot," says Squire. He adds, "This band delivers activity, measured sleep quality, heart rate and much more."
GET REAL EXPERT SUPPORT and GUIDANCE
"Anyone can call us at 866-586-7129 and talk to real users, real athletes and get real advice," says Squire. He adds, "We have a long standing good reputation on the internet for a good reason - we give customers great service and , in the final analysis, that is all that matters."