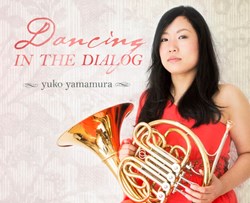 Music has a gentle but lasting effect on us, sometimes acting as a guide to the thoughts we keep inside. ~ Yuko Yamamura
(PRWEB) November 25, 2013
Award-winning French hornist, Yuko Yakamura brings much experience to her new CD project "Dancing In The Dialog." As grand-prize winner in the jazz catagory of the John Lennon Songwriting Contest 2012 and finalist of the 18th Annual USA Songwriting Competition 2013, she is surely equipped to release her debut CD project to the world. Her composition was selected by in-flight airplay of Virgin America airlines for summer 2012.
Hailing from Kobe, Japan, Yuko Yakamura started her musical studies as a singer at a very early age. Graduating from the Osaka College of Music in 1998, she studied classical music with Hiroko Fushimi and Shigekazu Ikeda, wind ensemble arranging with Toru Takahashi and jazz improvisation with Hiroshi Munekiyo at the Arrow Jazz Orchestra Music School.
As an educator, Yuko taught at the Yamaha School for Wind Orchestra. It was then that she led her own jazz quintet, and enjoyed performances at Kobe and Osaka, which culminated in a CD, which was recorded at XEBEC Music Production Studios.
"Music stays with us strongly and gently. Music is also a guide that leads us deeply into our memory. Life is full of stories, such as joyful, painful, happy and sad stories. Each story never happens in good order but rather does it happen at the same time or sometimes one after another. My songs were created as my thoughts were wondering over these things. Music has a gentle but lasting effect on us, sometimes acting as a guide to the thoughts we keep inside," says Yuko.
Yamamura met her goal when she traveled to the United States to attend Berklee College of Music and successfully graduating as a professional music major in both jazz French horn and composition. While there, she studied jazz improvisation with Tiger Okoshi, Christine Fawson, and Jeff Galindo.
Having worked with Victor Jones, Jay Rodriguez, Hector Martignon, Schott Collery, Jerry Granelli, Gerard Angel, David "Pic" Conley and Sweet Plantain Strings Quartet, she has become a mainstay on the international jazz scene.
Currently, she performs with Japanese traditional Taiko, in the band "Ajarria" in Japan and the U.S. She is also a member of the Victor Jones/Jay Rodriguez Band and regularly performs in New York City. Yamamura continues to perform, compose and working with other artists offering her compositions in a wide variety of genres.
"Yuko's new CD is a true expression of her musical excellence; no matter what geographical coast, she is graced with the influences of many great teachers. Yuko is a pure musician who can master any stage from working with a duo to a big band," says Jaijai Jackson, creator and owner of The Jazz Network Worldwide.
Be sure to come by and check out Yuko's feature on The Jazz Network Worldwide http://www.thejazznetworkworldwide.com. To learn more, go to http://www.yukoyamamura.com and to purchase "Dancing In The Dialog" go to http://buckyballmusic.com/store/. To view Yuko's video go to: http://youtu.be/nu7dG0N7qew.