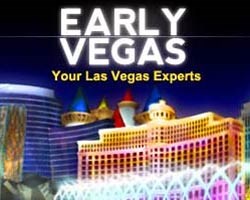 Many of the Off-Strip hotels in Vegas offer incredible entertainment and gaming options that make being Off-Strip a non issue.
(PRWEB) November 26, 2013
Tourists envision a Las Vegas vacation on The Strip, with pictures of movie stars and the Sin City glitz and glam. What most visitors don't realize is that they don't have to stay on the Strip to enjoy a great vacation full of non-stop fun, excitement & entertainment in Las Vegas.
Erica Krilov, a contributor to EarlyVegas.com, says "What most visitors don't realize is that activities, clubs, top restaurants and world-class shows in Las Vegas are still easily accessible from an Off-Strip hotel, and getting a great value on your hotel room means more cash to spend on the slots or at a show. In fact, many of the Off-Strip hotels in Vegas offer incredible entertainment and gaming options that make being Off-Strip a non issue."
To make planning a Vegas vacation easier, EarlyVegas.com has put together a list of the top 10 Off-Strip hotels based on value, reviews, and accessibility.
1. Rio All-Suites Las Vegas Hotel and Casino: As low as $45 per night and plenty of incredible special deals & packages to choose from. Carnival themed Off-Strip Vegas hotel with tons to do on premises, including 19 on-site restaurants. The Rio is the famous host to the World Series of Poker, or the "WSOP."
2. Palms Casino Resort: As low as $55 per night with plenty of special offers & promo code deals. Popular party hotel, just minutes away from the Las Vegas Strip. The Palms regularly book popular acts like Ringo Starr and his All Starr Band on November 23rd, Dierks Bentley 12/6, Robin Thicke 12/29 and everybody's favorite, Larry the Cable Guy, on 1/21/14.
3. Sunset Station: Room rates are some of the most affordable in Vegas starting as low as $35 per night. Currently offering a 20% off promo. Could be the best bet in Vegas when it comes to gaming promotions… check out their giveaways, bonus points, rewards, slot tournaments and the always popular Bingo sessions.
4. Hard Rock Hotel and Casino Las Vegas: Prices as low as $41 per night and currently running a 30% Room Rates special promo offer. This hotel features one of the most popular pools in Vegas (Beachlife) - enjoy poolside drinks and a swim-up blackjack table. The Fray kicks it loose on 12/6 and the Steve Miller Band and the Doobie Brothers perform on 12/28.
5. Palace Station - Make the most of a stay in Vegas with rates starting at $24.99 and hot special room rate packages and gaming promotions. Enjoy "Strip value" just minutes from the Strip. Great steaks, seafood and gaming.
6. Desert Rose Resort: Prices as low as $109 per night. Only a block away from the Strip, this luxury hotel hosts a complimentary Happy Hour.
7. Hooters Casino Hotel: Prices as low as $29 per night. This Hooters themed hotel employs both Hooters guys and gals, so there's something for everyone.
8. Red Rock Resort and Spa: Prices as low as $95 per night. Enjoy desert and canyon views, and indulge at the in-house spa.
9. Courtyard by Marriott South: Prices as low as $95 per night. For the working traveler, Marriott has a great business center so you can work and play in one stay.
10. LVH Las Vegas Hotel and Casino: Prices as low as $30 per night. Houses the largest sports booking and and betting area in all of Las Vegas.
There is plenty of Las Vegas beyond the glitz and glam of the Vegas Strip and life at these Off-Strip hotel casino resorts is thriving and full of round the clock fun. Make sure sure to check out these great hotels and get the best bang for your buck this Vegas vacation.
This article was written by Alex Turner, an editor at EarlyVegas.com: the local Vegas authority on how to save money and get the best value when planning travel to Las Vegas. EarlyVegas.com features the most up to date specials, packages, deals, promo codes and coupon code offers designed to help travelers save and get the most value when booking hotel rooms, shows, things to do, and nightlife in exciting Las Vegas.