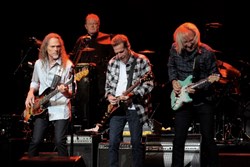 San Francisco, CA (PRWEB) December 05, 2013
Don't miss out on one of the most fascinating bands in music history as they relive their greatest moments on stage during the American leg of their "History of the Eagles" tour. Everyone will want to get their Eagles concert tickets today from Bay Area ticket broker Top Notch Seats, before they sell out. From their earliest days, The Eagles have been an American icon. Starting out in 1971 with original members Glenn Frey, Don Henley, Randy Meisner and Bernie Lendon, the band has won numerous American Music Awards and had seven number one singles.
Perhaps the most memorable song, "Hotel California," has long been an Eagles concert favorite. After all these years, Glenn and Don are still at the helm, and ready to bring all of the classics back. They are joined by long time member Joe Walsh and Timothy B. Schmit. In 2010, Timothy Schmit said he didn't think the band would tour again following their successful "Long Road Out of Eden" tour, but they're back to bring the History of the Eagles to an eager audience.
"If you are a fan of the Eagles, or just love classic rock, you don't want to miss this Eagles concert as it runs its American tour," said Paul Hillig of Top Notch Seats.
The band is currently in North Carolina. Through the end of the year they will be playing in Alabama and Florida locations. In January The Eagles are returning to California! The band will be playing nine dates and Top Notch Seats specializes in getting concert goers the best seats available for premier concert tours.
Please visit Top Notch Seats now to get tickets for Inglewood, San Jose and Sacramento. Anyone in the San Francisco Bay Area can see this iconic band at the SAP Center in San Jose on January 29th and 31st.
About Top Notch Seats
Top Notch Seats has been providing top quality Bay Area concert tickets since 1993 and is a member of the Better Business Bureau as well as the NATB. You will always get great, reliable service even if you need that special ticket to a sold out event, and The Eagles will sell out fast. So, get your tickets to Eagles tickets today at http://www.topnotchseats.com/concerts/rock-pop/the-eagles-tickets.html.
For more information about Top Notch Seats, please visit http://www.topnotchseats.com.