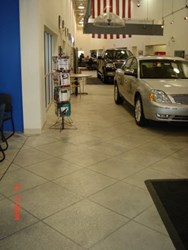 Washington DC (PRWEB) November 24, 2013
Concrete resurfacing transforms the appearance of existing concrete through the help of a concrete overlay, which are ultra-thin layers of concrete installed over the existing surface. The concrete overlay can then be further customized with custom coloring, textures or patterns to produce the desired style.
Sundek of Washington provides the Washington DC area with custom decorative concrete surfaces like pool decks, patios, interior flooring and walkways. They also recently completed a local commercial concrete project where the interior flooring was resurfaced with a concrete overlay. Custom neutral coloring and a textured finish were also applied to the overlay to add visual interest add slip resistance.