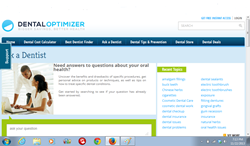 We hear from patients who end up making an appointment for a cleaning because the dentist helping them on Ask-A-Dentist was to thorough. - Andrew Clapp, Healthygrid LLC
Portland, OR (PRWEB) November 25, 2013
Healthygrid is pleased to offer another complimentary dental web marketing tool with the Ask-a-Dentist feature of the Dental Optimizer. As patients submit their dental questions, dentists will have the opportunity to gain their trust by answering them.
The Dental Optimizer is a site designed to connect patients to the dentists that can serve their needs. As patients browse the features of the Dental Optimizer, they often choose to seek dental care that they've likely been avoiding due to a fear of the cost or lack of access to the right dentist. One of the ways that patients are routed to the Dental Optimizer is search engine optimization or SEO that's programmed to attract dental questions.
The Dental Optimizer is "optimized" to come up in web searches that contain the terms most commonly used when someone has a dental question. If someone searches for "what to do about a broken tooth?" or "are bleeding gums serious?" for example, they will be led to the Dental Optimizer where they can submit their question to be answered by a dentist. Dentists with Dental Optimizer profiles will be notified when patients whose needs match their services have questions. Each answer is saved on the Dental Optimizer so when questions are searched again, the dentist who answers initially comes up in the search and can further assist more people.
Because trust is a key component of a patient's decision to make a dental appointment, dentists benefit from this opportunity to establish a dialogue with potential patients. Sometimes a patient's need is urgent and this feature allows them to find the quick care that they need. "We've heard from both dentists and patients about more than a few saved teeth," says Healthygrid's Andrew Clapp. "It's common for patients to have a problem, ask a question, and get in to see the dentist in time to avoid a root canal or extraction. In turn the dentist creates a web presence that can help them show up in search when a potential patient is searching for a solution to their problem. We hear from patients who end up making an appointment for a cleaning because the dentist helping them on Ask-A-Dentist was so thorough and resourceful."
Dentists who wish to take part in the Ask-a-Dentist program need to a have a complete Dental Optimizer profile which they can receive without charge. A dentist or employee of their practice can establish a profile and get started answering questions quickly at http://www.dentaloptimizer.com/dentists/dental-web-marketing/. People who have dental questions or are looking for a dentist can begin at http://www.dentaloptimizer.com/.