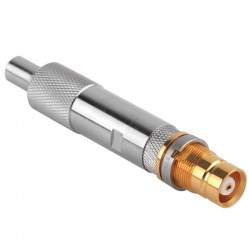 (PRWEB) November 24, 2013
Recently, Rfcnn.com, a renowned balun vendor in the world, has released its exclusive collection of mini balun products. Also, the company has announced a special offer on these brand-new items. According to the CEO of the company, the discounts are up to 32%.
The CEO states, "We are very happy to announce our new products. As we all know, the word 'balun' is the combination of 'balance' and 'unbalance'. A balun refers to an electrical device that can convert between a balanced signal and an unbalanced signal; it may take many forms and can include devices that also transform impedances but need not do so."
"In addition, transformer baluns can be applied to connect lines of differing impedance." He continues, "As its name suggest, a mini balun is some balun that is tiny. So, it is convenient to carry. Those who are intending to buy some mini baluns should visit our website as soon as possible, the special offer will last for a limited time period only."
The company promises that all products leaving its production plant are made from the best materials. With the strict quality checks and product standards, each of them is durable and convenient to use.
About RFcnn.com
RFcnn.com is an online shop of Zhenjiang Fourstar Electronics Co. LTD, which is a China based company that aims to provide customers with high quality products at the lowest possible prices. Customers can try the company's products through sample orders with a long-term contract. Most customers come back soon after receiving their first deals.
More details at http://www.rfcnn.com/Mini-Balun-IDC-Connector.html.