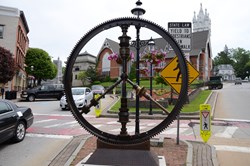 This bicentennial exhibit reflected the Village itself, which, as it now accelerates in its renaissance, has become an exciting place for contemporary living in historic surroundings.
(PRWEB) November 27, 2013
Three sculptures from the "Ossining in 3D" bicentennial sculpture exhibit have become permanent fixtures in the Village of Ossining. James Havens' "Let's Roll," David Boyajian's "Dancing Milkweed III" and Gary Orlinsky's "Double Arch" were selected from among the 25 pieces displayed earlier this year to commemorate the Village of Ossining's milestone anniversary.
"This bicentennial exhibit reflected the Village itself, which, as it now accelerates in its renaissance, has become an exciting place for contemporary living in historic surroundings," said Village of Ossining Mayor William Hanauer. "The three sculptures, which will remain to forever grace the Village, will remind future generations of our present period of growth – unmatched since the 1870s."
Thousands of residents and visitors weaved through the Village's historic buildings and downtown waterfront area over the course of the six-month exhibition, which was open to the public May through October.
"I intend that my sculptures should contain enough information that the viewer is not confused or mystified by the artist's intent," said sculptor James Havens, who used stainless steel, plate, shaft and gear to construct "Let's Roll," which is located at the triangle at Main Street and Church Street. "I wish to be considered a good journeyman ironworker who creates enduring sculptures that speak to the highest aspirations of the human spirit."
"Let's Roll" was purchased following a successful crowd-funding campaign initiated by the Village before the sculpture exhibit ended. Donations were made largely by individuals in the community.
"Dancing Milkweed III" can be spotted in front of Village Hall. Like Havens' "Let's Roll," David Boyajian's sculpture was paid for, in part, with crowd-funding donations supplemented by funds raised by the Bicentennial Committee.
"It is a poetic narrative depicting the scattering of seed forms in nature," says Boyajian, who fabricated "Dancing Milkweed III" out of steel. "Seeds are designed to travel like people do. And during times of great conflict or natural disaster or personal timing, new options become available and things move. The Dancing Milkweed is about timing, releasing, holding on and letting go."
Some of the exhibiting artists, like sculptor Gary Orlinsky, used Ossining as their point of inspiration. Orlinsky, who paid homage to the Village's Double Arch with a sculpture made from wood, paint and saplings, donated his piece to the Village in honor of its bicentennial.
"The shape of the top arch is referenced by the horizontal bamboo lines which hint at the aqueduct's brickwork while the lower arch reverses this process with the void defined by the vertical lines," he said. Originally installed along Ossining's waterfront, Orlinsky's "Double Arch" sculpture was recently moved to its permanent location at the Joseph G. Caputo Community Center framed by the actual adjacent Double Arch Bridge.
"It has been said that 'All passes; Art alone endures.' 'Ossining in 3D' showed the Village in its best light – with significant, contemporary sculpture exhibiting the diversity of our beautiful historic architecture," said Hanauer.
While the sculpture exhibit served as the cornerstone of the "Ossining in 3D" celebration, several bicentennial-related events were also held throughout the year, attracting tens of thousands to the Village from across the region.
"Ossining's treasures are its buildings, its nature and its people," said George Camp, Bicentennial Committee Chairman. "I'm so pleased that 'Ossining in 3D' was such an overwhelming success. It brought everyone together to celebrate what we know and want the rest of the world to know – what an amazing community we have in Ossining."
The Village of Ossining's Bicentennial Celebration was made possible with major support from Ginsburg Development Companies in collaboration with the Ossining Arts Council, Ossining Historical Society and the County of Westchester. Significant additional funding has been provided by General Electric Company, Emigrant Bank, Avalon Bay, Cedar Manor, Inc., Dorsey Funeral Home, Open Door Family Medical Center, Inc., Hudson Valley Bank, Bethel Homes & Services, Solomon Organization, Arthur J. Gallagher Risk Management Services, Inc., Mahopac National Bank and Club Fit.
For information on the Village of Ossining and upcoming events, contact the Village Manager's Office at 914-941-3554 or visit http://www.villageofossining.org.
About the Village of Ossining
On April 2, 1813, the Village of Ossining became the first incorporated village in Westchester County to be state-chartered. Today, Ossining is a culturally diverse, affordable place to live, rich in both history and natural beauty. Approximately 25,600 people reside in the three and one half square miles of this historic Village on the Hudson River, which boasts extensive shopping, recreational programs, educational enrichment opportunities, and excellent municipal services. Ossining's role in New York's heritage has been recognized by its inclusion, as one of only 14 areas, in an Urban Cultural Park System designed to attract visitors to the State. With its Bicentennial anniversary in 2013, the Village of Ossining has launched "Ossining in 3D," a yearlong celebration of events designed to honor the Village's past while embracing its future. Visit http://www.villageofossining.org for more information.