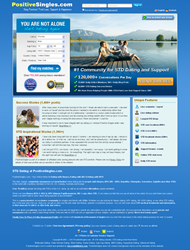 Los Angeles (PRWEB) November 24, 2013
PositiveSingles.com, which has created a safe online dating site for people living with HIV / AIDS for over ten years to find support and love, is calling on their members to help make World AIDS Day a day to remember.
World AIDS Day is one of the most important days in the calendar, it is an opportunity for people worldwide to unite in the fight against HIV and help raise awareness and raise money to find a cure. PositiveSingles.com,which is donating a percentage of their income to help fight the AIDS battle, wants to hear from their members on which HIV research organizations should be helped.
One of the biggest problems that people with STDs face is feeling isolated when it comes to their social life. A lot of people who contract an STD feel they will no longer have a social life, they feel the days of meeting people and having a relationship and support is over, but thanks to PositiveSingles.com which was founded in 2001, people with STD no longer have to feel alone.
PositiveSingles.com which is the number one dating site for people living with HIV / AIDS has been receiving thousands of emails that recommended HIV organizations including International Aids Society, UNAIDS, WORLD HEALTH ORGANIZATION and now they want their members to come forward and recommend a worthy organisation that they can help.
The Number One dating site for people with Herpes, HIV/AIDS, HPV, Hepatitis, and more, which has had numerous success stories, know how important it is for HIV research organizations to receive support and that is why the PositiveSingles.Com is donating a percentage of their income on World Aids Day.
PositiveSingles CEO, Jeffrey Manson said: "We know how important it is to win the battle against AIDs, as a human being it is our responsibility to fight the battle against AIDs and help find a solution and allow our children to have a better future."