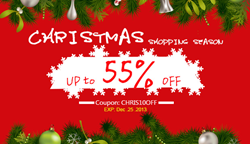 We can beat any competitor in price or quality.
(PRWEB) November 23, 2013
Christmas is around the corner. PriceAngels.com, a popular electronics center from China, has recently announced its new promotion for the Christmas shopping season, offering great discounts, up to 55% off, on all its hot selling products. The promotion is valid until Dec. 25, 2013.
The product categories feature big discounts now. The senior sales manager of the company states, "Once a year, we provide big instant discounts and other promotions to our customers for the Christmas shopping season to show our appreciation to them. We would say thank you for everything. Today, we wanted to extend our special offer across all our product categories. Every one has a great chance to save. Here at PriceAngels.com."
The senior sales manager specially recommends two links for saving:
All the Christmas Supplies 10% OFF, Coupon Code: CHRIS10OFF, Link: http://www.priceangels.com/christmas-supplies-t94.html
All the Jewelry 10% OFF, Coupon Code: CHRIS10OFF, Link: http://www.priceangels.com/jewelry-t118.html
The low-priced electronic products from PriceAngels.com are extremely popular in the global market. These products sell well for the acceptable quality, affordable prices, worldwide free shipping and fast delivery. As its name indicated, PriceAngels.com is considered as a price angel; it is also a price killer in the current market, because its prices are always 50% lower than those from other competitors.
As a top supplier in the electronic industry, PriceAngels.com delivers high quality products and services worldwide to meet the rapidly changing demands of different people. The company has firm relationships with hundreds of original manufacturers and suppliers, ensuring that it can provide high quality electronic products at affordable prices.
About PriceAngels.com
PriceAngels.com has much experience in the manufacturing and retail of China electronics. The reason to choose PriceAngels is very simple: PriceAngels offers premium quality cool gadgets at affordable prices, and all their products have free shipping. Moreover, with a perfect online presence, PriceAngels.com is able to serve its clients anywhere in the world. For more details, please view: http://www.priceangels.com/Christmas-Discounts-Sales.html
Follow PriceAngels at:
Facebook: https://www.facebook.com/PriceAngels