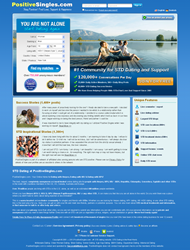 Los Angeles (PRWEB) November 25, 2013
PositiveSingles.com, which has been helping people with HIV/AIDS to find love and support for over ten years, wants to know which feature their members prefer on the dating site. And the number one answer is "Forum."
The online dating site, which has achieved incredible success for over 10 years, asked 24360 members what was their favorite part on PositiveSingles.com.
The results are as follows:
49.3% Forum
33.2% Inspirational Story
9.3% Chat room
6.2% Support
Jonathan Lawrence, one of members who joined the survey, said:
"I can see different ideas about love, dating, sex or marriage here. It is easy for me to find single people with similar ideas."
The forum on PositiveSingles.com has been the most active forum, compared with forums on the other similar dating sites. Jade Walters who is a member of PositiveSingles explained why the forum was important to her. "When I suffered, I would look for tips from the forum," She said.
And the feature, Inspiration Story, is another popular part on PositiveSingles.com. 33.2% of members said that they could enjoy reading stories about other members in the section. This feature allows all the members to share their own inspirational stories. As a proud member on PositiveSingles, Amanda Smith, explained she felt so inspired when she read these stories by the other members.
Positivesingles.com, which has created a safe online dating community for people with HIV / AIDS to find support and love, is very pleased with the results of the survey and believe they providing a valuable service for their members.