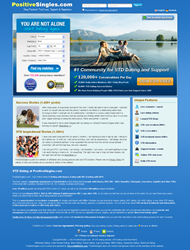 Los Angeles (PRWEB) November 26, 2013
The number one dating site in the world for people living with HIV/AIDS announced this month that their website would be upgraded and receive a make-over to make the experience for their members more enjoyable. One of those upgrades includes a Group Chat where members can get together in the chat room and discuss everyday topics and share opinions.
PositiveSingles recently ran a survey with their members on their experience of the dating site and found that the forum was the most popular section. With the survey results in hand, the team decided they wanted to upgrade the dating site that has had some incredible success stories over the years and make it a more enjoyable and user friendly experience. By adding the Group Chat as well as 'Viewed Me' they have certainly made a perfect dating site even more perfect.
Thanks to the new Group Chat, members of the dating site for people living with HIV/AIDS can now find members they are interested in and have a chat about issues which are important to them. This new addition to PositiveSingles shows the team behind the dating success story really do think and care about their members.
In2town Lifestyle Magazine who have seen the new design have said members of the Number One dating site for people living with STDs are in for a real treat.