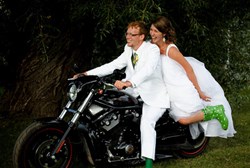 Los Angeles California (PRWEB) November 27, 2013
BikerKiss.com, the top dating site for bikers to find a match, recently surveyed its members about their preferences in wedding themes. The overwhelming majority stated they would prefer to have a Harley-Davidson themed wedding.
A total of about 5,000 members responded to the survey about wedding themes presented to them by the biker's favorite dating site, BikerKiss.com. The results of the survey showed that 81% of the responders would incorporate Harley-Davidson into their weddings, in one form or another. Another 14.13% thought that a Harley-Davidson themed wedding wasn't appealing to them. Among those that weren't impressed with the idea of a Harley wedding, almost 10% were women. Another 4.42% of people surveyed said they might consider it, depending on a few things that they would have to think about, such as whether their partner would agree to a Harley-Davidson themed wedding. Another reason for being unsure was the weather. Which is understandable, since it's difficult to have a Harley wedding in the rain.
It's not difficult to see why bikers would enjoy a Harley-Davidson themed wedding. Although there are many brand names of motorcycles, Harley-Davidson is the favorite among bikers. It is the brand that most people think of when they think of bikers – especially when you are thinking of that loud, unmistakable trademark Harley sound. Even bikers who don't ride a Harley, still respect and love the brand. Harley riders are especially fond and proud of their Harleys and it's only natural that they would want to use them as a part of their wedding. Harley-Davidson represents their lifestyle and both members of the couple have this love of riding in common. They feel especially grateful to their ride since that is what brought them to BikerKiss.com to meet their match. Bikers are a unique breed of people who love to do things their own way, and their wedding wouldn't be different. A Harley wedding is cool, and freeing and unique – just like their lifestyle.
About BikerKiss.com
BikerKiss.com is the largest and most effective dating site for single bikers to find their match or friends. Members on the site come from all over the world because of the same interest. If you are looking for others to ride on Ducati, Harley, Triumph or BMW, BikerKiss is the right place.