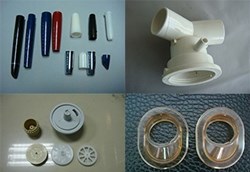 (PRWEB) November 24, 2013
Today, Wuxi Glory Plastics, a famous China plastic factory, has updated its website and added a new collection of electronic parts to its product line. What's more, the company has determined to launch a big promotion of the new products. From today on, all these items are available at discounted prices, up to 36% off.
Wuxi Glory Plastics is an astounding online store of high end plastic parts. It insists on providing excellent products at favorable rates. According to the CEO of the company, Wuxi Glory Plastics adopts strict quality control systems. In addition, the company applies cautious quality checks to its finished products.
The electronic part selection of the company has many items in it: tiny precision electronic parts, molded insert parts, appliance housing, auto parts, gears, stoppers and so on. Additionally, the company offers many other plastic products, including plastic caps, plastic industrial parts, plastic tablet bottles, blow molded hollow products and blow molds. For additional information, custom products are also available at its website.
Also, the company has its own team of master engineers. They are always making every effort to create more useful and durable products for worldwide customers. The company has ensured that all its items are made from safe materials.
About Wuxi Glory
Wuxi Glory engaged in developing and manufacturing custom molded plastic product in China by taking advantages of our relatively low labor costs. We have most experienced workers in China, If you're looking for product design, engineering, prototyping, and mass production, Glory plastics can always find a solution for you. For more about our products and services please visit: http://www.plastics-molding.com.