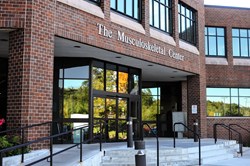 We are excited to bring this rare Massachusetts medical office building to market in an environment where limited healthcare investment opportunities exist.
Boston, Massachusetts (PRWEB) November 25, 2013
MANSARD and Coppola Properties have been exclusively retained to market The Musculoskeletal Center located at 4 Centennial Drive; a 38,188 +/- SF multi-tenant medical office building located just 17 miles north of Boston just off Exit 28 on Route 128.
This off campus, high quality medical office asset has tenants affiliated with Partners Healthcare as well as Spaulding Rehab and is 93.8% leased at an average rate off $23.66/SF NNN. Pricing for this asset his expected to reach the mid $12M mark. What's more, this unique medical office building investment is being offered free and clear of any financing, allowing investors to take advantage of today's attractive debt markets to deploy capital.
As an integral part of the Boston's Northshore medical market, which is home to Beverly Hospital, Mass General Hospital, and Lahey Clinic, The Musculoskeletal Center was originally built around 1976 and redeveloped in 2003. The building has housed the same tenants for the past 10 years, which have renewals and term extensions through 2023.
In 2013, more investors seek healthcare real estate despite the the 2% sequestration Medicare payment reduction that began on April 1, 2013. Plus, as healthcare systems find more efficiencies in property operations amidst the expectation for increasing demand for healthcare services, investors continue to be attracted to the stability and upside value potential in the medical office building market.
This appetite for medical office buildings for sale in Massachusetts has led to a limited selection of deals and an environment where capital has compressed cap rates to record lows.
To learn more about The Musculoskeletal Center, visit the property website here.
About MANSARD:
MANSARD is a commercial real estate investment sales, leasing, advisory, and asset management firm headquartered on the shores of Lake Quannapowitt in Wakefield, Massachusetts. Founded in 2007, they have been involved in over 750 commercial transactions and have 2 CCIMs and 1 CCIM Instructor on staff.
About Coppola Properties:
Coppola Properties specializes in the sale and lease of commercial investment properties. Coppola works with property owners to add value, reposition their property, and ultimately sell or lease for the maximum price from its headquarters in Needham, MA.