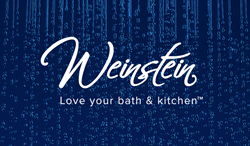 D4 made an extraordinary effort to really understand our business and define what differentiates us in the market.
Philadelphia, Pennsylvania (PRWEB) November 25, 2013
D4, a full-service branding and digital advertising agency, was named agency of record for regional multi-store bath and kitchen distributor and retailer, Weinstein Bath and Kitchen's brand agency. The company, which is owned by national plumbing distributor, Hajoca, has nine showrooms located in Pennsylvania and New Jersey. Before D4, most of the showrooms had their own websites in addition to the company site, and there was a lot of brand inconsistency. Further, most of the print-related advertising was co-branded with manufacturers like Kohler, Grohe, etc. and the Weinstein brand was relegated to a very secondary position in those ads.
"We needed to create an identity that would stand out no matter how small it was in co-branded work, but more importantly, they needed to own a position that resonated with consumers in way that would be memorable and reflect the brands superior products and service," remarked Carl Teitelman, Chief Strategy Officer at D4.
The agency delivered a positioning consistent with the remarkable experience, customer focused attention, and stunning showrooms Weinstein offers it's customers, "Love your bath and kitchen." The brand expression was first and foremost delivered through an equally stunning new website which utilizes a responsive design platform: http://weinsteinluxury.com/.
The campaign kicked off with a series of radio spots and outdoor ads that can be found here: http://d4agency.com/weinstein.
Paul Weinstein commented, "D4 made an extraordinary effort to really understand our business and define what differentiates us in the market. They were able to translate our message into a compelling logo and tag line. Their creative team developed graphics, a website and radio ads that truly stand out and tell our story in a way that will establish Weinstein as the premier brand in the local bath and kitchen market."
Kurt Shore, President and Chief Creative Officer along with creative director, Bob Seabert led the creative team for Weinstein. Sara Stuard, VP of Client Services led the account team, Carl Teitelman, Chief Strategic Officer led the strategy and planning team, and Justin Stauffer, VP of Digital led the digital team for the agency. Wicky Lee, VP of Design, led the design team.
Shore remarked, "Since the website was the most important touch point for the brand (other than their people of course), we wanted to create something beautiful, elegant, truly reflective of the brand, yet be easy for the consumer to immerse herself into the Weinstein 'love your bath and kitchen' experience."
The website is responsive in that it will resize to whatever screen the user making it more consistent for the user, and easier to update for Weinstein.
About D4 Creative Group
D4 is one of the region's most successful creative and branding advertising agencies and is located in the Manayunk section of Philadelphia. The agency is a certified Woman/Minority Business Enterprise (WMBE). Unique to the region, D4 Creative offers full in-house audio, video, motion graphics, and post-production suites. D4's clients include Penn Maid, ARI Fleet, Weinstein Bath and Kitchen, Veria Living, Pond Lehocky Stern Giordano, Espoma, Frontier, Sandia National Laboratories, and Nuna. For more information, visit our website at http://www.d4agency.com.