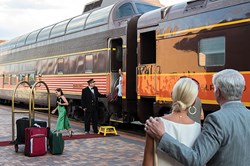 Nostalgia meets iconic meets authenticity in Pullman Rail Journeys. Retro train travel between Chicago and New Orleans – essential elements of the soul of America.
Chippenham, UK (PRWEB UK) 26 November 2013
The Luxury Train Club is delighted to announce that Pullman Rail Journeys are now available through the Club, offering members a very special train route in classic rail cars through the centre of the USA, Chicago – New Orleans.
The Luxury Train Club features over 30 luxury trains around the world, on every continent that has railways.
Pullman Rail Journeys delivers 'nostalgia meets iconic meets authenticity' - with modern facilities. The original Pullman rail company that built the carriages in the late 1940s started service in 1867, and finally went out of business in the 1980s.
These vintage cars have been rescued and fully restored to the original Pullman Art Deco design, with stylish plush accommodation that features modern amenities to maximize comfort without compromising authenticity. Pullman Porters and Stewards clad in traditional uniform are on hand at all times to give superb service.
Members of the Luxury Train Club benefit from discount off Pullman Rail Journeys and every other trip or tour listed on the Club website. Membership is free, by subscription to the Club newsletter.
The Luxury Train Club is offering the A - Class Master Bedrooms with private facilities – drawing room, shower, toilet and wash basin, at fares starting from USD $2,850. Train Chartering's developing new service,World Train Travel, features 5 other Pullman classes of travel, including Rooms, Compartments, Roomettes and Open Sections, with prices from USD $800.
Public cars include the Lounge Car, and Dining Car and the Observation Car. Comfortable seating is arranged to make the most of the views through a wall of windows, which are features of the Observation and Lounge Cars.
Food on Pullman Rail Journeys is prepared on board; during the trip, passengers are served three elegant meals. Menus can include, for example, filet mignons with Madeira wine sauce and the great American breakfast. All drinks are included in the price and are prepared to order. Light meals and snacks are available from the buffet in the Club and Lounge Cars. The Club car remains open throughout the trip.
Every week, there are two departures southbound, Chicago to New Orleans, and two departures northbound.
Each journey is around 950 miles over an unhurried 19 hours; long enough to appreciate that taking time to travel can be a life-enhancing experience in such classic surroundings, especially with a special companion.
Simon Pielow, Concierge at the Luxury Train Club, says "Nostalgia meets iconic meets authenticity in Pullman Rail Journeys. Retro train travel between the great cities of Chicago and New Orleans – essential elements of the soul of America."
About the Luxury Train Club:
Contact: Simon Pielow, http://www.luxurytrainclub.com, infoATluxurytrainclub.com, +44 (0)1249 890 205
The Club gives the public rates on all listed trains, and then reduces them by applying a 'Member Special' 2.5% discount on every journey, as well as passing on any available offer from the train. The Club also shows appreciation for every booking with a thank-you gift.
The Club website has details of offers from trains around the world, including Early Bird Booking Offers, some specifically for Members.
Member Benefits
Discounts:

2.5% discount off the price of any journey on the Club website
Club discounts are in addition to all offers available from the train companies.
Thank You Gift – the Club values every booking made by a member, sending a thank-you gift, which varies from time to time, to the leading passenger for every reservation. Current gifts include one of the following:

Gift from Osprey London, something from their range of small leather goods;
Gift from Noble Isles, a travel item from their range of bath and body products;