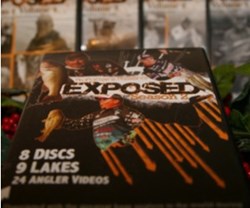 Not only was this the first tournament since my back surgery, but I was going to be able to fish an area where I grew up.
Yankton, South Dakota (PRWEB) November 25, 2013
Eye-opening, real, and unique—top pros have been buzzing about the online release of Exposed Season 3, which premiers during the week of January 6th, 2014. Leading the season 3 premier will be Dennis Tietje, Charlie Hartley, and former BassMaster Classic World Champion Takahiro Omori. These three pros were filmed on practice days leading up to the Sabine River Challenge, held in March of 2013. Tietje commented on his Exposed practice day, "The Sabine River tournament in Orange Texas was a very exciting event for me. Not only was this the first tournament since my back surgery, but I was going to be able to fish an area where I grew up."
Following Tietje, Hartley, and Omori two weeks later will be pros Matt Reed, Fred Roumbanis, James Niggemeyer practicing the waters of Falcon Lake in Texas during the 2013 BassMaster Elite Series Falcon Slam also held in March of 2013.
Other pros in the Season 3 Exposed lineup include several BassMaster Champions and 2013 Tour winners like fan favorites Shaw Grigsby, Paul Elias, Casey Ashley, Jami Fralick, Jamie Horton, Rookie-of-the-Year Hank Cherry, Andy Montgomery, and Jason Christie. Last in the list of anglers Exposed during 2013 is co-host and commentator of the Exposed series, host of Timmy Horton Outdoors, and former BASS AOY, Tim Horton. More information about Season 3 anglers can be found at http://www.propatterns.com and several online media outlets as video premier dates approach.
Unrestricted viewing of Season 3 is available to Elite memberships, now through Christmas including Black Friday ProPatterns announces radical discounts at its online store for Elite member upgrades, up to 25-percent off. Once registered, free Social and paid Elite members will receive an email with codes that unlock deep discounts and special deals. Applying for a free social membership is as simple as signing up with a name and email address.
About ProPatterns, Inc. and Exposed:
ProPatterns, Inc. is a leader of angling education offering a variety of fishing tips and membership services online including competitions to win exclusive prizes.
Information is gathered from various sources and disseminated with members in a variety of ways. The Exposed video series, for example, gains all of its integrity from an alignment with the biggest names in the bass fishing industry including professionals who fish with BASS, FLW, and PAA. Cooperation from the anglers and their willingness to share is the catalyst for the growth of this series.
Season 1 of Exposed features 22 professional videos in a nine-disc collection DVD set, it can be ordered at the ProPatterns online store. The set includes over 20 hours of video, and is also available in a pay per view format at http://www.propatterns.com.
Season 2 of Exposed, which became available on DVD last month, features 24 pros and over 16 hours of footage on an eight disc collection. Pay per view options for Season 2 are available online at http://www.propatterns.com as well.
The company is based in Yankton, South Dakota, home of CEO and President Chad Ekroth. Ekroth's background includes a computer science degree and business experience involving several successful startups. When not tending to business, Ekroth spends his time tournament fishing and engaging in other outdoor related activities which help educate and protect the future of angling and hunting.
Visit http://www.ProPatterns.com today to receive all of the latest information about the Exposed videos series and to learn more about all of the member services available.