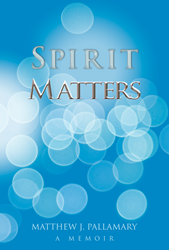 Gangs, drugs and murder seamlessly transform into surreal jungle visionary worlds in this true tale of the author's incendiary life. – Margaux Hession, Mystic Ink Publishing
Laguna Beach, CA (PRWEB) January 02, 2014
Matthew J Pallamary is an author and shamanic explorer and who goes there – in both his critically-acclaimed, controversial tell-all memoir "Spirit Matters" and his visionary jungle adventures. Pallamary lands in Laguna Beach on Sunday night, 1/5/14 at 7 p.m. PST, to tell his other-worldly tales to Inner Journey Talk Show host Greg Friedman on Laguna's Only FM radio station, KX 93.5 FM.
On Sunday night, Pallamary and Friedman will kick off the release Spirit Matters – a new audio version of Pallamary's memoir, produced and directed by Friedman and narrated by the author, Matthew J. Pallamary. To listen, click on the KX 93.5 link above at 7 p.m. 1/5, click "Listen Live" at the top of the page for chances to win signed copies of "Spirit Matters" and other noted works by Pallamary.
"Spirit Matters" chronicles Pallamary's journey from the mean streets of Boston's Dorchester neighborhood to the Amazonian jungles where he discovered that Spirit does Matter.
Mystic Ink Publishing's Margaux Hession says, "Gangs, drugs and murder seamlessly transform into surreal jungle visionary worlds in this `lucky-to-be-alive' true tale of the author's incendiary life."
Recorded over the summer at the KX 93.5 FM studios in Laguna Beach, with additional mastering by Tony Friedman at The Outpost Sound Mixing Company, North Hollywood, California, "Spirit Matters" is available for digital download as an audio book on Audible.com, Amazon.com, and at iTunes.com.
"Spirit touches us in every moment of our existence; only most of us are caught up in the dramas that we have created in our lives, blinding us to a reality far greater than anything we can imagine with our rational minds," says Pallamary. "It is simply a matter of awareness."
About Friedman:
Greg Friedman is a modern day spiritual guide and mentor who builds bridges and helps clear paths by taking the ancient wisdom of indigenous cultures and making it applicable to people in their everyday lives. He works with clients one on one, in workshops, as a couple's referee and translator, as well as taking small groups of people all over the world to work with indigenous elders in remote destinations.
About Pallamary:
Matthew J. Pallamary teaches how to balance personal and physical energy, increase mental and physical acuity, and tap into calm focused, positive thinking through inner personal work. He has been doing extended shamanic plant diets with visionary and other healing plants deep in the Amazon as well as throughout North, Central, and South America for close to a decade and a half.
Pallamary's books are available in e-book and print format on MysticInkPublishing.com, Mattpallamary.com, Amazon.com, and at bookstores everywhere.
Pallamary can be contacted for interviews or as a speaker at mattpallamary.com.
Based in San Diego since 2000, Mystic Ink Publishing is an independent publisher focusing on works of a spiritual, shamanic, new age, or transcendent nature.
Based in Santa Barbara, "Innovative Creative Content: What Makes You Different Connects Us All" is a Content Marketing Firm focusing on successful client branding and global marketing through targeted content and storytelling campaigns. For more information, visit their website at http://www.innovativecreative.co or contact them directly at email (at) innovativecreative (dot) co.