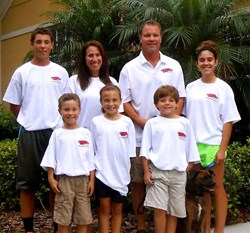 Sarasota, FL (PRWEB) November 25, 2013
Being a stay-at-home mom is a big job. In addition to caring for her and her husband Bob's five children – including two sets of twins – Allison Taraska was often in charge of taking care of the house, which included working with contractors.
"I know what kind of challenges people face when they work with contractors. So, when I decided I wanted to open my own business, I knew I wanted to be in a position to provide people with the great customer service and quality they deserve. Fresh Coat Painters was a perfect choice," she said.
Taraska, a former school teacher, just launched Fresh Coat of Sarasota this fall after the family moved to Florida from New Jersey.
Fresh Coat Painters of Sarasota serves Sarasota and Manatee Counties and specializes in residential and commercial painting services including interior and exterior painting, wood staining and finishing, and other services for nearly every protective coating application. They use quality, environmentally safe materials and are committed to great customer experiences with services like 24/7 access and free touch-ups.
"I know the sort of quality work and great service I expect for my family and that's what we'll deliver for your family," Taraska said. "We've only been living here for a short while, but we're already heavily involved in the community through our kids and the business. We're looking forward to making a difference here."
Fresh Coat was founded in 2004 as part of Strategic Franchising Systems, which has more than 20 years of franchise experience. In the last year, Fresh Coat has been included in the Bond's Top 100 and named to Entrepreneur Magazine's Franchise 500 list. Fresh Coat also is part of the International Franchise Association, the Small Business Association's Franchise Registry, VetFran and Minority Fran.
To learn more about what Fresh Coat Painters of Sarasota can do for your home or business, call (941)225-8162, email ataraska(at)freshcoatpainters(dot)com or visit http://www.FreshCoatSarasota.com.