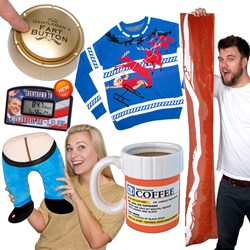 Bacon scarves, butt towels, and a Santa-kini? They're just a few of the gifts to make Stupid.com's Top 10 Most Stupid Gifts of 2013.
Los Angeles, CA (PRWEB) December 03, 2013
Bacon scarves, butt towels, and a Santa-kini? That's just a few of the outrageous gifts that made this year's 7th annual list of the Top 10 Most Stupid Gifts of year, compiled by online retailer Stupid.com.
Since 1998, Stupid.com has made the world laugh with their stupid holiday gifts and crazy stocking stuffers, and each year they've surveyed their customers, asking the question, 'What's the stupidest gift of the year?'.
Each of the 10 gifts selected for this year's list are sillier and more absurd than the next. For a complete list of funny gifts, visit Stupid.com
Here are the Top 10 Stupid Gifts of 2013, listed in no particular order:
The Bacon Scarf- Wrap yourself in bacon, literally. This knit scarf looks exactly like a giant slab of bacon, and is sure to keep even the biggest pork-lover warm and satisfied.
The Gentleman's Fart Alarm - It's a simple fact: Every man farts. Why not keep those toots classy with this tiny golden alarm button that helps preserve your sophistication with phrases like, "Who sliced the brie?" and "Like a fine cabernet!" when one accidently slips out.
The Butt Towel - This towel is sure to be the butt of the joke the next time someone notices it at the beach. This clever towel looks like someone forgot to cover up all the way and will really "crack" up the next pool party.
Grandma Got Ran Over By A Reindeer 'Ugly' Sweater - The classic Christmas song is forever immortalized in this terrible, tacky, and inappropriate ugly holiday sweater. Thanks to the reindeer, granny is sure to turn a few heads and maybe break a few hips.
Redneck Farting Butt Pillow - Everyone knows rednecks love to fart. They also love to stretch out on the couch, crack open a cold one, and watch the big race. Now they can kill two birds with one stone with this pillow, shaped like a butt.
The Wine Rack Flask Bra - This sneaky device lets ladies conceal an entire drink of their choosing in their undergarments, and brings new meaning to "filling up a cup!"
Obama's Last Day Countdown Clock - Whether it's celebrating the time remaining in office or counting down until he leaves, the President Obama Countdown Clock makes a fun way to track how many days the commander-in-chief has left in office.
Prescription Pill Bottle Mug - Sometimes coffee is the best medicine. When in need of the relief only a hot cup of coffee can bring, use the Prescription Pill Bottle Mug. This funny mug looks just like an oversized pill bottle and makes a great gift to those pill-popping, java heads.
Star Wars Death Star Ice Mold - Nothing is cooler than the iconic Death Star from Star Wars molded in solid ice. Whether it's to chill a glass of whisky or used with chocolate to make the best party treats ever, this gift will be sure to bring out your inner geek.
The Santa-kini – Take off that traditional Santa suit and slip into something more comfortable, Mr. Claus! This festive outfit not only looks like a bikini for Santa Claus, but is just about as ridiculous as it sounds. Did we mention it comes with a Santa hat?
All these gifts and more can be purchased at Stupid.com and select gift shops nationwide.
About Stupid.com
Stupid.com has been spreading laughs – one gift at a time – since its burst onto the online retail scene in 1998. From great gag gifts, to silly stocking stuffers, the company offers a huge selection of over 3,500 products and 150 gift categories of crazy and insane gifts.