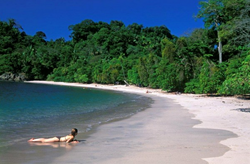 (PRWEB) November 26, 2013
Manuel Antonio National Park is the emerald of Costa Rica's Pacific coast. Recently lauded by Forbes as one of the 'Worlds Most Beautiful National Parks', and voted by Trip Advisor as having the '#1 beach in Central America', Manuel Antonio is quickly becoming a sought-out destination for beach and nature lovers alike.
Last week, with the aid of SINAC (National System for Conservation Areas) and BID (Interamerican Development Bank), the national park began a US$1.2 million restoration project. The focus of the project will be to restore and enhance the 8 trails throughout the park, as well as the common areas and entrance, improving the experience for tourists.
Costa Rica is well known for its environmental and conservation efforts, with over 25% of the land protected in national parks and reserves. Manuel Antonio national park is one of Costa Rica's most visited national parks—and yet also its smallest, at 7,656 acres. The nucleus of the park, with restrooms, a kiosk, and picnic tables—is located at the base of the famous 'tombolo' which separates Manuel Antonio beach from Espadilla Sur beach. Several easy to moderate nature trails extend out to Cathedral Point, to Hidden Bay and also to a local waterfall.
The entrance fee for the national park is $10 for foreigners, and can be purchased either at the entrance, or also at Coopealianza in Quepos. Guided trips to the park with a professional, certified guide, equipment, transportation, entrance fee and lunch run $45 per person.
As improvements continue to be made to the national park and local infrastructure, the level of service, amenities and luxury continues to improve. Once an off-the-beaten-path destination for naturalists and adventurers, Manuel Antonio is quickly becoming known for its not-overdeveloped feel, array of great restaurants and ocean view rental homes.
For travelers who enjoy wildlife, nature and adventure without having to sacrifice the amenities that one looks for in a world-class destination—Manuel Antonio is the ideal place to visit.