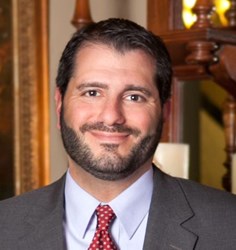 Jay Tiftickjian named Best DUI Lawyer in Colorado
Denver, CO (PRWEB) November 23, 2013
Denver DUI attorney Jay Tiftickjian was voted "Best DUI Lawyer" for 2013 in a poll conducted by Colorado's official bar journal, Law Week Colorado. Tiftickjian is likely the most recognized defense attorney in Colorado that litigates primarily driving under the influence cases.
Law Week Colorado's Barrister's Best issue comes out once a year, and lists the top attorneys in the State based on a vote of the editors (Barrister's Best award) and a poll of attorneys and judges (People's Choice award). Tiftickjian swept the DUI honors this year, winning both awards for being considered the best DUI lawyer in Colorado. This is Tiftickjian's second consecutive Barrister's Best award.
Jay Tiftickjian has a well-rounded career in criminal litigation. Originally from Buffalo, New York, he moved to Colorado in 2002 to work for the Adams County District Attorney's Office as a deputy district attorney. In 2004, he left the DA's office to enter into private practice and made DUI defense his primary focus. Tiftickjian Law Firm is now a boutique law firm with four attorneys and two offices—its main one in Denver as well as a satellite office in Aspen.
In addition to litigating cases in court, Tiftickjian has written several books about DUI defense and is frequently asked to provide expert legal analysis for newspapers and on television. He has been quoted in The New York Times, The Denver Post, and on National Public Radio.