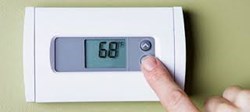 Bloomington, IN (PRWEB) November 26, 2013
When looking for heater repair, Richfield, residents may want to consider installing a programmable thermostat as well, advises the technicians at Bloomington Heating and Air Conditioning. They state that a programmable thermostat can save a homeowner hundreds of dollars on energy costs per year. It can also help extend the life of a home's heating unit and reduce the need for repairs.
On average, a homeowner saves approximately three percent for every degree the thermostat is set below 72 degrees. A programmable thermostat enables a homeowner to pre-set the home's temperature to be lower at certain times of the day, such as during the afternoon when most people are at work and the house is empty, or at night, when most people are asleep and under the warmth of blankets. During these times, the home's heating unit will use less energy and will cost less to operate. Since most programmable thermostats have the ability to be programmed for up to a week, that can add up to a significant amount of savings.
The cost for a programmable thermostats usually runs between $30 and $250, but with the convenience, savings, and comfort it provides, it will easily pay for itself in about a year.
For more information on heating your home this winter, contact Bloomington Heating and Air Conditioning at 952-236-4219 or visit http://www.bloomingtoncarrierdealer.com.
About Bloomington Heating and Air Conditioning
Established in 1987, Bloomington Heating and Air Conditioning provides efficient and affordable heating, ventilating and air conditioning services to Bloomington and surrounding area homes and businesses, and is part of the Stay Comfy Minnesota network. With NATE certified technicians, quality Carrier products, and a 100% satisfaction guarantee, Bloomington Heating and Air Conditioning is built around a simple philosophy: "Straight talk, competitive prices, quality workmanship."