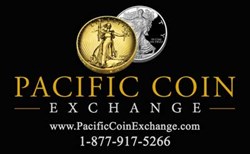 Our goal is to educate people in how to protect their savings, how to protect their retirement and how to protect their financial future.
Carlsbad, California (PRWEB) November 26, 2013
The precious metals industry is a fascinating one to outsiders, and also somewhat shrouded in some secrecy. This isn't the case any more, at least when it comes to Pacific Coin Exchange. Under new ownership, the Pacific Coin Exchange hopes to reveal some educational and insightful features into precious metals, alongside current news and events. With this new step, Pacific Coin Exchange has a goal to provide helpful information that will educate interested minds, if not make it easier for people looking to trade in precious metals.
To many people, the topic of precious metals brings up images of the two well-known metals: gold and silver. While these two have earned the right to such popularity, there are other metals that are as valuable, if not more, than gold and silver. However, finding the right information about them is something of a preserve of precious metal experts and enthusiasts, and people in possession of precious metals might sometimes lack the right information to make a decision.
What the new blog series does is to educate the average person on the various types of precious metals, their values, and how to go about selling them and how to go about buying them. The blog has been created to educate and highlight key topics and events related to the precious metals markets around the world, focusing on gold and silver, with platinum and palladium topics covered as well. Trading in precious metals can be quite lucrative; with the right information individuals can secure their financial futures with smart and sound financial decisions. Pacific Coin Exchange wants to assist their readers in doing just that, protecting their financial future.
More to helping people understand what it is about precious metals that makes them, well, precious is the fact that a lot of current news and events on the industry doesn't make it to main stream news publications and television programs. Pacific Coin Exchange will go behind the scenes at such news events, and break down coverage for its audiences. With a wealth of knowledge on the going-ons about precious metals, individuals are more likely to appreciate their value, and show interest in learning more about them.
The man behind the blog is dedicated to making it work, and has a passion for success in the precious metals industry. The blog will take on his expert voice, and provide analysis and insights like never before seen.
"I have such a passion for helping others succeed. I have been successful helping others achieve their goals as a teacher, having been an associate professor of business for 14 years now, a serial entrepreneur, a business coach, and within the precious metals industry since 2000. Now at Pacific Coin Exchange, I get to take my passions to a new level helping our clients educate themselves on how to protect their financial futures," stated Brian Whitfield, owner of Pacific Coin Exchange.
"I know I'm not a good writer, I never have been, my brain works faster then my typing fingers which is what made me a bit nervous about starting a blog series. Goodness knows I can't proof read my own work. I know I'll have typographical errors; I didn't major in writing or English, my focus with this blog and with Pacific Coin is educating others, in helping others protect their savings, protect their retirement and protect their financial future. There is no denying that insights have been nearly 100% accurate for many years. After so many of our clients, who are spread all over the United States, asked me if I'd consider writing my views and opinions so they wouldn't have to call asking for them so often and I was already emailing a few clients every couple of days at their requests with insights, suggestions, opinions, etc., I was convinced to give it a shot."
Pacific Coin Exchange's mission is to earn the trust of clients while helping them achieve confidence in acquiring smarter assets to help protect their financial future. The company is committed to the highest ethical standards, honesty, and integrity towards the best interests of clients, no matter what their individual goals are: investing, selling, collecting, asset management, or any other form of wealth preservation and growth. As a family owned and ran business, with all partners being rated disabled US Military Veterans, clients will find their integrity, their prices and service second to none.
For more information go to http://www.PacificCoinExchange.com.