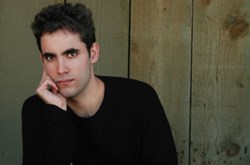 More than this, my goal is to make the magic relatable. I want my personality to come across, I sincerely love what I do, and I sincerely love the audience being there at my show. I want them to feel that.
(PRWEB) November 24, 2013
Since the age of five, Michael Grandinetti has been practicing magic. Now, Grandinetti is taking his magic skills to a whole new level. Recently, TVRage.com's Senior Writer Anthony Marcusa spoke with the magician about his magic skills and The CW's upcoming reality series 'Masters of Illusion.'
Here's an excerpt from the interview:
"TVRage: So you have a live audience there, but most of us will watch from home. I can't help but feel something is lost watching on TV, how do you amend that?
Grandinetti: I know what you mean. I think when a show is done right, and this is done right, it can give you more than what you would see in person.
For example, I do a piece in the show where I levitate ten feet in the air above the stage. We do it right in front of the stage, under bright lights, and there is a good 20 to 30 feet around us in all directions. If you're in the theatre, you see it from the front, and it looks wonderful. On television, we used a steadicam to do a 360 degree shot around the levitation as I'm floating, giving you a perspective you wouldn't even see if you're there.
As we come around and you see me from the back, you also now see the audience watching me float, which shows you there are live people verifying everything there. We try and use the television medium to make it a better experience for the home viewer to give them something they wouldn't see.
TVRage: You performed in the White House and at sporting events. Where does this special rank compared to other things you've done?
Grandinetti: This is a 13-week series, and we taped six of the 13 episodes, which I'm very excited about. For me, I moved to Los Angeles 13 years ago because I love the combination of magic and television. I love the fact that this will allow the magic to be visible to people on such a large scale, both nationally and internationally. So it's certainly something I'm excited about and a highlight."
'Masters of Illusion' is set to air in February on The CW.