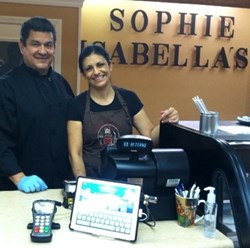 Nashville, TN (PRWEB) December 02, 2013
RewardMyWay (RMW) is the premier omni-channel marketing solution. Designed for forward-thinking merchants looking to reach existing and prospective customers with a full-cycle social, mobile and loyalty technology platform. RewardMyWay is the only customer reward program that enhances revenue opportunities through dynamic social media marketing offerings. It also provides unmatched face-to-face customer service and support for its clients.
RewardMyWay's platform allows merchants to increase customer visits through rewards and special offers, drive mobile transactions and improve retention all while increasing revenue. Merchants featured on RewardMyWay will have customized loyalty plans unique to their businesses marketed via social commerce tools that build online exposure and provide realtime cash visibility into purchases.
Sophie Isabella's, run by Blanca Solis, is named after her and husband Miguel's daughter. You can find Miguel and Blanca's brother George at Sophie Isabella's assisting most of the time as well, and as George puts it "just following directions". Blanca works Monday-Friday making fresh baked sweets including the most delicious cupcakes in Nashville.
What makes Sophie Isabella special:
There are several reasons Sophie Isabella's is Nashville's premier spot for cupcakes and other baked sweets. As George mentions, "Everything is made fresh daily. Our icing is amazing, nobody has icing like ours. My sister makes it from scratch every day." Blanca agrees that fresh equals quality, and describes the variety she offers; "All the different desserts, pastries, everything is fresh every day. We have special recipes for our mini-cheesecakes, pecan pies, tiramisu, all our own recipes. Monkey pies and cake pops are also special creations that customers love."
While there is something for everyone, Blanca believes cupcake connoisseurs need to run, not walk, to Sophie Isabella's. "The most exclusive item we have is our cupcakes. We have so many great flavors; Pina Colada, Hot Fudge Sunday, Italian Creme, Peanut Butter Cup, and then there is the Sophie Isabella's Signature cupcake, which is a chocolate cupcake with raspberry filling, chocolate ganache, strawberry icing, and dark chocolate shavings on top."
Although Sophie Isabella's is new to their downtown Arcade location, they are quickly gaining popularity at their new spot. "We have been open downtown in the Arcade for a month. We were open in Mount Juliet for a year previously. Business has been wonderful in the Arcade and we love it here. People want to see something different and special downtown and we offer that. We already have regulars here every day."
Sophie Isabella's is very excited about their opportunity and experience with RewardMyWay. Blanca notes, "Its a very good way to reward customers, because in just one month we noticed we have a lot of regular customers who have come in sometimes 3-4 times a week. This gives us an opportunity to give them something back for coming so often."
George adds, "Our regulars may be here anyway, but its our pleasure to reward them for coming in. Everybody likes something for free. It's good to get a freebie, but a sweet one is much better. We love RewardMyWay because it makes rewarding our customers easy and simple, we recommend it."
Blanca beams, "One thing about RewardMyWay is the customer service. We love the service so far and look forward to keeping it."
Mike Murphy, Social/Mobile Marketing Specialist at RewardMyWay, has had great success gaining quality merchants in Nashville's Arcade. "I couldn't be happier to have Sophie Isabella's as a Nashville Arcade customer. Blanca and George are terrific people. Our platform fully supports the customer-first approach they take to engage their loyal regulars. Plus Blanca is an unbelievable baker!"